Virgin Media Broadband Offers
| | | |
| --- | --- | --- |
| | | |
| | | |
| | | |
Are Virgin Media Broadband Deals Available in My Area?
Virgin Media ultrafast fibre is available to 37% of UK households can get Virgin Media broadband. Virgin Media is working tirelessly to expand its network across the UK and project to reach 37% of UK homes by the end of 2021.
There is no doubt that Virgin Media provides some of the fastest broadband speeds amongst the most popular broadband providers like Sky and BT. You can use the Virgin Media Post Code Checker to quickly see if it is available to your address.

Virgin Media M100 – 108 Mbps Average Download Speed
This plan suits most households and can handle up to 9 devices. It is perfect for those that download a lot of movies or stream 4K television. If you do stream 4K television, you need at least 25 Mbps which this plan will provide quickly. You can see all of the Virgin M100 fibre deals on offer on our Virgin Media M100 broadband deal page or compare all Virgin Media broadband only deals.

Virgin Media M200 – 213 Mbps Average Download Speed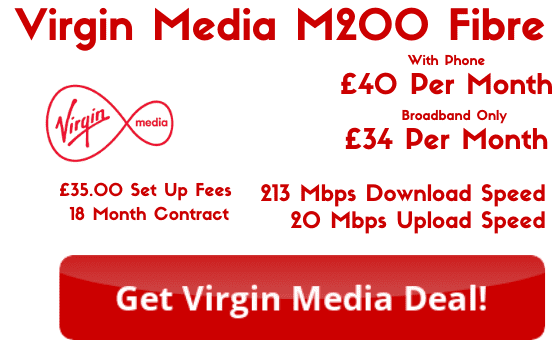 Virgin Media M200 broadband deal is perfect for online gamers that download many digital games where file sizes can be several GB in size. A game 100 GB in size would take 24 hours to download with 10 Mbps vs 1 hour 7 minutes with Virgin M200.

Virgin Media M350 – 362 Mbps Average Download Speed
The Virgin Media M350 broadband deal features even faster speeds than the M100 and M200 broadband plans. As we mentioned in the M200 plan, if you were to download 100 GB, it would only take 39 minutes to download vs 1 hour and 7 minutes with the M200 plan. The M50 project would take 4 hours and 46 minutes.
This plan is for big households that require ten or more devices to be connected and is excellent for streaming 4K and UHD resolutions. It is ideal for heavy internet users who stream many videos or download a lot of large files.
M600 – 630 Mbps Average Download Speed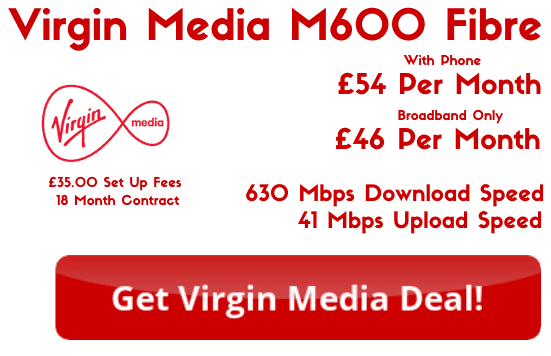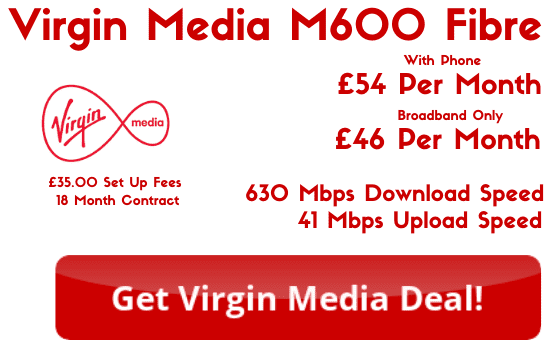 Virgin Media M600 is available to customers who have the Virgin Media Ultimate Oomph bundle. These speeds are some of the fastest offered by any UK broadband provider. These speeds are definitely for those who spend a lot of time downloading, streaming online, or watching many 4K and UHD television.

Once in a while, Virgin Media will offer 6 Months of Free broadband throughout the year for significant upfront savings. OfCom has given Virgin Media 85% overall customer satisfaction from the latest rankings as they offer the fastest fibre speeds.