BT Full Fibre 900 Broadband Deals & Information
BT Full Fibre 900 delivers ultrafast download speeds of up to 910 Mbps and upload speeds of up to 110 Mbps. We have the latest BT Full Fibre broadband deals on offer with the lowest prices available online. 
Deals Sorted by Broadband Speed ★ Effective Monthly Cost Includes Fees & Discounts

100 Mbps
BT StayFast Gurantee!

Monthly Cost £34.32 With Fees & Rewards!

250 Mbps
BT StayFast Gurantee!

Monthly Cost £44.32 With Fees & Rewards!

455 Mbps
BT StayFast Gurantee!

Monthly Cost £54.32 With Fees & Rewards!
How Fast Can BT Full Fibre 900 Download?
We made it easy to compare the speeds of various broadband plans to give customers an idea of how much time they save if they get full fibre instead of essential fibre.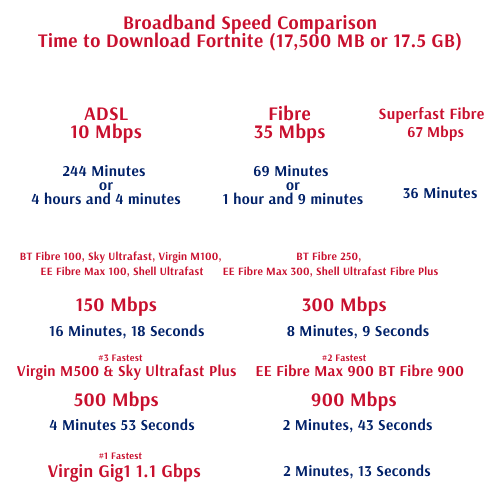 As you can see BT Full Fibre 900 can turn large hour-long downloads into just a few minutes of waiting. BT Fibre 2 can download Fortnite in 36 minutes if you are currently unable to get full fibre. BT Full Fibre 100 would take just 16 minutes to download and BT Fibre 250 would take just 8 minutes. BT Full Fibre 500 would make the download go "night-night" within five minutes or less!

Is Full Fibre Available In My Area?
Currently, only 8% of UK addresses can get Full Fibre broadband from BT as the GFAST network is being installed in several major cities like Manchester, London, Leeds, Liverpool, and Birmingham. We will update this page constantly with updates on availability.

Alternatively, if you prefer not to wait, you could check and see if Virgin Media Gig1 Fibre is available at your address. Virgin Media broadband offers ultrafast fibre and is available to 53% of UK addresses. Sky has also launched its popular Ultrafast Plus broadband service but is only available to 15.3% of UK households currently.
BT is ranked 3rd for the UK's top broadband providers by OfCom the UK's communications regulator and watchdog. When comparing the most reliable broadband provider BT actually was the 2nd most reliable internet provider behind first place EE by just 1% difference. 
BT Broadband 3 Most Popular Deals

#3 UK Provider!
Most Popular Deal!

70 Mbps Stay Fast Guarantee!

100 Mbps
BT Stay Fast Gurantee!

250 Mbps
BT Stay Fast Gurantee!