Looking For The Best Broadband Provider in the UK?
Gigaclear is a leading UK internet provider with an incredible 4.1/5 Trustpilot rating and is available in over 200+ communities including the West Oxfordshire District.  The latest offers for Gigaclear are listed below for your convenience. If you need to get in touch with customer support you can either email networkbuildcare@gigaclear.com or call Gigaclear on 01865 591137.
Gigaclear Full Fibre Rural UK Broadband

200 Mbps Fibre
£17.00 Per Month


300 Mbps Fibre
£20.00 Per Month


600 Mbps Fibre

£24.00 Per Month


830 Mbps fibre
£49.00 Per Month

Cheapest FTTP for Rural UK Areas!


Perfect for Gaming & Many Devices on Wi-Fi.
Looking For A Fast Reliable Broadband Connection?
Gigaclear is one of the UK's leading broadband providers, offering connections that are up to ten times faster than traditional broadband. Gigaclear provides some of the most reliable and consistent connections in the UK, making them the perfect choice for businesses and households alike.
With Gigaclear, you can enjoy some of the best broadband speeds in the country without having to worry about data caps or restrictive contracts. We also offer a wide range of packages to suit every need, so you can find the perfect connection for your home or office.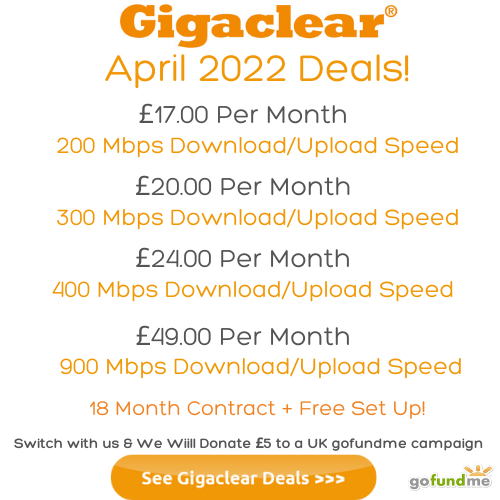 Comparing Gigaclear Broadband Customer Service With Other UK Internet Providers
If you compare the Top Five UK internet providers, Gigaclear has a higher rating then Plusnet, Sky, Virgin Media, BT, and EE with over 5,100 reviews. If you're looking for incredible UK based customer service we strongly recommend seeing if Gigaclear is available in your area.