Plusnet Unlimited Fibre Broadband Deals and Speeds
Plusnet Fibre Broadband offers unlimited 36 Mbps download speeds for just £22.99 per month, and new customers can get a £65 Plusnet Reward MasterCard. Here are the most recent prices and deals on offer from Plusnet Unlimited Broadband.
Plusnet Deals for May 2022
You can use the Plusnet Reward Mastercard at any online retailer or the high street shop where MasterCard is accepted. You can even use the card on the Amazon UK Marketplace and get a gift for one of your family members.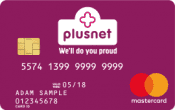 The incredible feature of Plusnet broadband is they offer free set up and no activation fees and is based on an 18-month contract instead of 24 like BT. You're also able to bundle broadband and phone for just £8 extra per month.

About Plusnet Fibre Broadband
Plusnet broadband also offers Plusnet Unlimited Fibre Extra with a download speed of 66 Mbps. Whether you should get Plusnet Fibre or Plusnet Unlimited Fibre Extra comes down to three factors.
If you watch Ultra HD on Netflix, you will need at least 25 Mbps for watching UHD on your 4K television. If you want to watch Manchester United battle it out with Liverpool on BT Sport or Sky Sports, you need at least 44 Mbps.
You can watch 4K television in Ultra HD with Plusnet Unlimited Fibre Extra as it can provide enough speed for at least 2 Ultra HD devices simultaneously. The price is an incredible £24.99 per month with a £50 Reward Mastercard, making it £21.38 Per Month.