Latest Internet Deals on Offer from Plusnet Broadband

How to Make Sure You Get Your Reward Card!
When signing up to Plusnet make sure you get the following screen.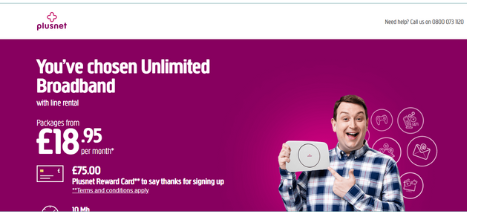 If you selected ADSL, Fibre, or Unlimited Fibre Extra you will see the Plusnet Reward Card shown at the bottom as it shows here. If you DON'T see this screen with the Reward Card there is a chance you typed the provider in your browser. Unfortunately, Plusnet won't offer reward cards by going direct to the provider and helps support third party small business sites like London Broadband.
Plusnet Unlimited Broadband ★ £18.99 Per Month
Pros: Plusnet Unlimited Broadband comes with a standard ADSL 10 Mbps download speed, unlimited usage, and no activation fees. The £18.99 per month price tag is reduced even further with the £70 Plusnet Reward Mastercard for new customers. This is a great low budget broadband deal with unlimited bandwidth, so you never have to track it.
Cons: Plusnet Unlimited Broadband offers a maximum download speed of 10 Mbps under the required 25 Mbps for watching Ultra HD. According to Netflix, you need at least 25 Mbps to download speed for watching their Ultra HD shows. Slow downloading times is another drawback; however, if you have all the time in the world to wait, this is the broadband speed for you. 
Conclusion: Plusnet Unlimited Broadband is ideal for those that don't use broadband very often, don't watch Ultra HD TV and aren't fussed on download times.  There is no doubt that this ADSL broadband deal is the cheapest out of ALL the ADSL deals listed on this website. Plusnet is the #1 Broadband Provider in the UK for customer service and has finished top #2 three years in a row. 

---
Plusnet Unlimited Fibre ★ £22.00 Per Month
Pros: Plusnet Unlimited Fibre comes with a 36 Mbps download and 9 Mbps upload speeds, perfect for those looking for reliable broadband. You can relax knowing you're getting a fantastic broadband deal for those needing just a few devices connected and using one Ultra HD TV for watching Netflix in Ultra HD. 
Plusnet was rated the #1 Broadband Provider by OfCom, the UK internet regulator that tracks customer complaints and satisfaction. OfCom is the UK internet regulator that oversees who the best broadband providers are in the UK.

Cons: If you have multiple devices connected, you may want to consider moving up to Plusnet Unlimited Fibre Extra, as you can double your speed for just £3.00 a month more. If you plan to watch live sports in Ultra HD, this speed might not be fast enough. Some broadband sports stations require at least 44 Mbps download speeds for live sports UHD, and fibre is not fast enough. 
Conclusion: Plusnet Fibre is a great broadband plan for those that don't use Ultra HD and need broadband for a small to a medium household.  Keep in mind that smart devices like Google Nest use 3 Mbps of bandwidth even when not used. If you don't have too many devices that use Wi-Fi, this deal will work great for you as you get unlimited broadband, and it is very affordable.

Plusnet Unlimited Fibre Extra

★ £24.99 Per Month
Pros: Plusnet Unlimited Fibre Extra is just £24.00 per month with 66 Mbps download and 19 Mbps upload speeds.  Plusnet Broadband offers the cheapest "Superfast Broadband" deal for superfast fibre in the 50 – 70 Mbps range. New customers will also get to enjoy a Plusnet Reward Mastercard worth £70.
Plusnet was rated the #1 Broadband Provider in the UK with a STRONG 93% Overall Customer Satisfaction compared to 2nd place runner up EE Broadband with 88%.

Cons: The only con we can think of is the lack of ultrafast broadband Plusnet offers as they would blast away the competition. Even with no ultrafast offering Plusnet still had a higher rating for speed of service than Sky broadband. 
Conclusion: Plusnet Unlimited Fibre Extra offers the best broadband deals and prices for superfast broadband under 100 Mbps. When you subtract the Plusnet Reward Mastercard, the average monthly price is under £22 per month for reliable, superfast fibre. 
Superfast fibre is perfect for medium to large households and for watching Ultra HD on Netflix or live sports on Sky Sports or BT Sport. You can also add on calling for a very affordable £9 per month for unlimited UK calling to landlines and mobiles.

Is Plusnet Broadband a Reliable UK Broadband Provider?
Plusnet broadband has won the distinction of being one of the Top UK Broadband Providers after they have finished in the Top 2 for two years in a row. The infographic below shows Plusnet Ranking #1 for Overall Customer Satisfaction from this report from OfCom released in Mid-2020. Currently in 2021 Plusnet is ranked #2 just behind EE by 1% with 82% and 81% respectively.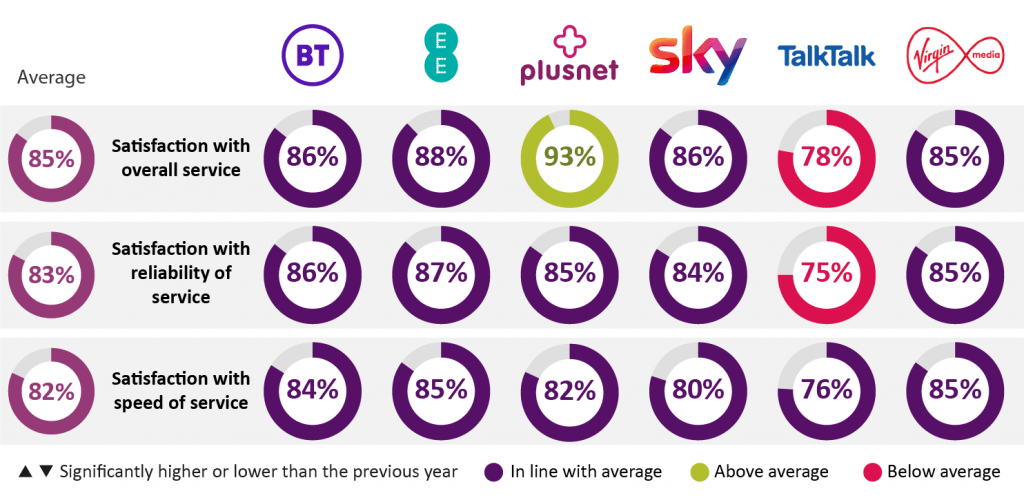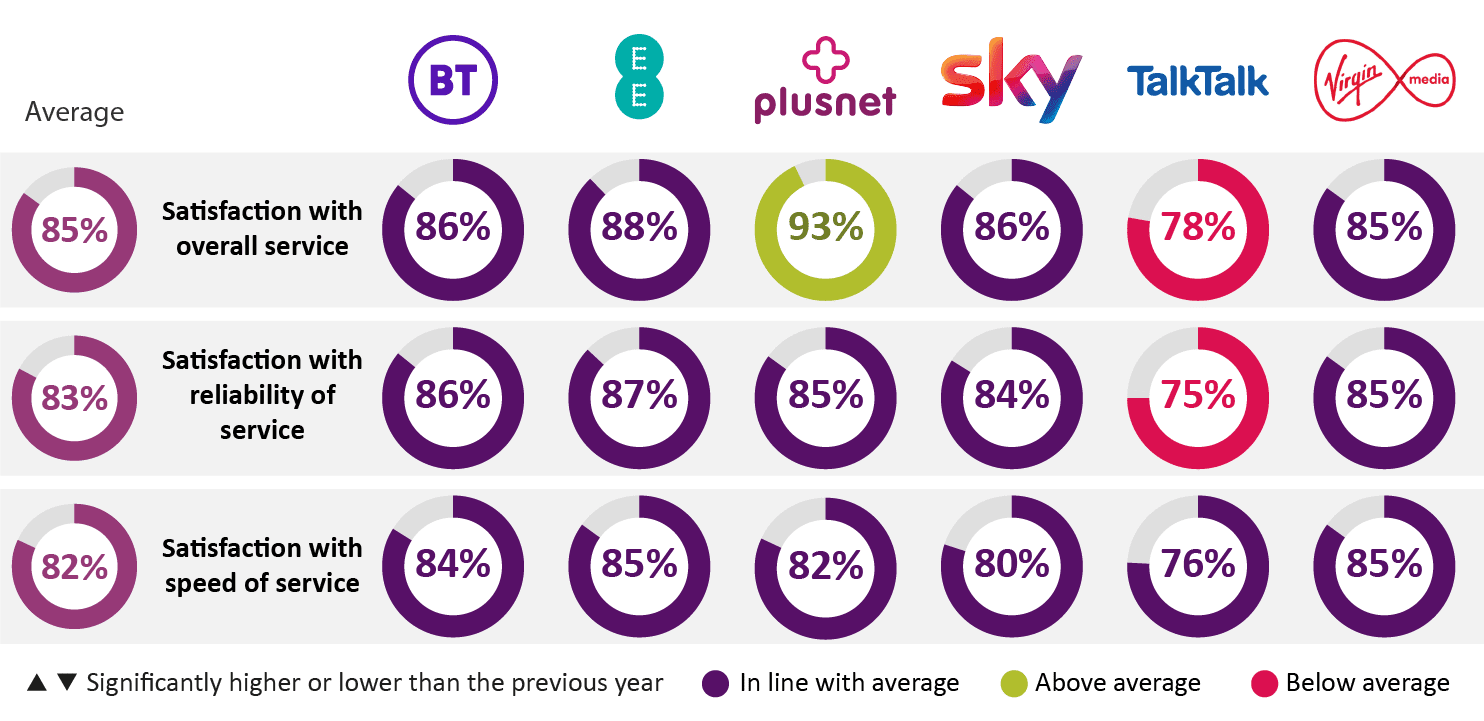 If Plusnet is available in your area, we definitely recommend giving them a try if your current broadband provider is treating you like another number in the queue. Plusnet hires all local staff, including their call centre, which is another reason their customer service ratings are superb. 
If you want to see what all the excitement is for Plusnet, you can smash that pink button below and see how low your broadband prices will drop. If you decide to switch, Plusnet will do all the switching for free and break the bad news to your current provider hassle-free.
When you switch to Plusnet Unlimited Fibre Extra, Plusnet Fibre, or Plusnet Unlimited ADSL broadband you can get a £70 Reward Mastercard. The Plusnet Reward Mastercard can be used at any high street shop that accepts Mastercard as well as online including Amazon UK. We will also Donate £5 to a local UK GoFundMe on our about us page. This works out to 5-20% of your donation going back into the community and possibly near where you live!