BT Fibre 2 Superfast Broadband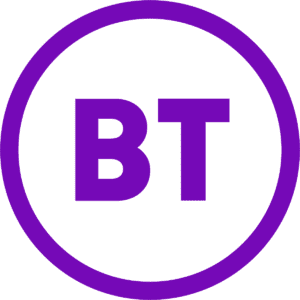 BT Fibre 2 offers download speeds of 67 Mbps with 19 Mbps upload speeds and comes with a Stay Fast Guarantee based on your address and speeds in the area. Here are the three most popular deals on offer from BT including BT Fibre 2, which is the most popular plan.
BT Broadband 3 Most Popular Deals

#3 UK Provider!
Most Popular Deal!

70 Mbps Stay Fast Guarantee!

100 Mbps
BT Stay Fast Gurantee!

250 Mbps
BT Stay Fast Gurantee!
Comparing Fibre 2 Download Speeds With Other Broadband Speeds
If you have ever wondered the difference between regular and full fibre, please look at our comparison chart below.
As you can see from the chart BT Fibre 2 can download Fortnite in as little as 36 minutes which is nearly twice as fast as Essential fibre. If you have an ADSL connection it will take over four hours to download and is not fast enough for watching Ultra HD on Netflix.
If you had BT Full Fibre it would only take 16 minutes with BT Fibre 100 or 8 minutes with BT Fibre 250 also known as BT Full Fibre 300. BT Full Fibre 500 is available in some major UK cities such as Liverpool, Manchester, Birmingham, and of course London. It would make the download go "night-night" within five minutes with an average speed of 500 Mbps.
Compare BT Fibre 2 Broadband With Other UK Superfast Fibre Providers
£65 Shell Energy Shop Voucher!

£60 Reward Card for
New Customers

£60 Reward for New Customers
How Good Is BT for Customer Service?
The latest OfCom data shows that BT is now tied for 3rd for the best broadband provider in the UK for Overall Customer Satisfaction. In #1 spot was EE with 82% and Plusnet was 2nd with 81%. BT, Sky, and Virgin Media all tied for 3rd with 80% overall customer satisfaction.
BT Fibre 2 and BT Fibre 1 is fantastic for most UK homes who use one or two Ultra HD devices at a time! You also don't need to worry about availability as 96% of UK households can get superfast fibre.