BT Fibre 2 – BT Superfast Broadband
BT Fibre 2 broadband is priced at £29.99 per month up to £32.99 per month depending on their promotional periods. You can rely on BT Broadband to deliver the 67 Mbps download and 19 Mbps upload speeds that Fibre 2 offer.
BT Essential

£27 .99 /Month
BT Fibre 1

£27 .99 /Month
BT Fibre 2

£32 .99 /Month
This is mainly due to the fact that BT is part of the group of broadband providers that follow guidelines set forth by OfCom. OfCom is the UK broadband provider watchdog that watches these companies like hawks. They track every customer complaint and compliments and track them in an excel spreadsheet. You can also compare everything BT has on offer by visiting the BT Broadband offers page.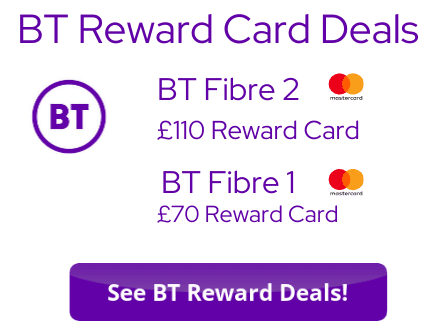 BT has been ranked as one of the Top 3 Broadband providers in the UK as they have improved significantly over the past year. They definitely win the most improved award from us at London Broadband. They are coming out full force in 2021 as customers switch over from turtle to cheetah broadband.