Plusnet Full Fibre 500 Broadband Is Finally Here!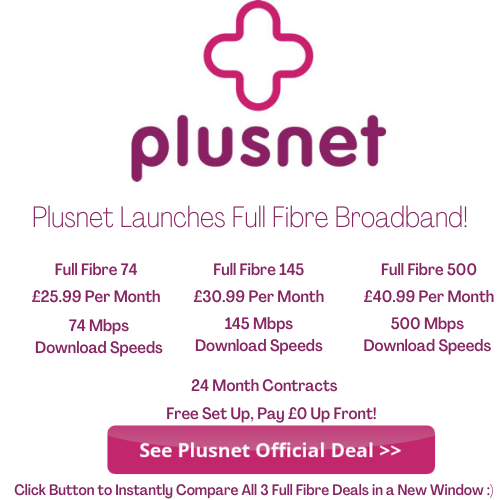 Plusnet Full Fibre 500 offers internet customers a chance to finally experience reliable pure fibre broadband with consistently fast download speeds. Full Fibre 500 offers 75 Mbps upload speeds which will send photos and videos faster than ever before!
Priced at just £40.99 per month, Plusnet offers the cheapest full fibre 500 package amongst BT, EE, Sky, Virgin, TalkTalk, and Shell Energy. 
Comparing Plusnet Full Fibre Download Times
Full Fibre 500 offers a download speed 9x faster than Full Fibre 74 for customers looking to have the most productive download speed. You can save yourself nearly half an hour of waiting if you download large files over 5 GB on a consistent basis. Full Fibre 74 and Full Fibre 145 offer consistently fast download times and is perfect for households on a tighter budget. 
Contract Terms
Unlike previous broadband plans that offer 12 or 18 month terms, all full fibre contracts are on 24 month terms. All contracts offer unlimited bandwidth and Plusnet will never throttle or slow your speed even during peak times.