Where Can I Check My Postcode With Virgin Media?
| | | |
| --- | --- | --- |
| | | |
| | | |
| | | |
How Fast Are Broadband Speeds With Virgin Media?
See the chart below to see the difference between download times for Fortnite a 17.5 GB popular online game.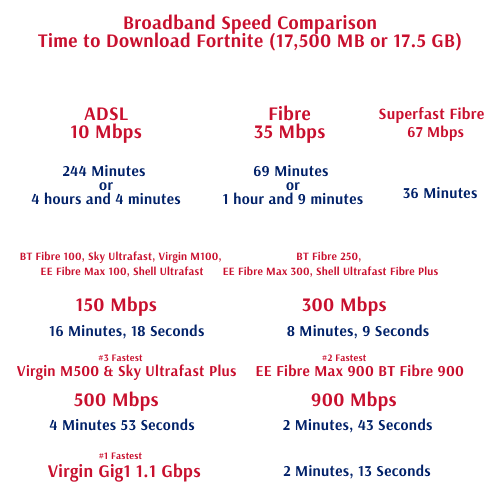 You can see a complete list of broadband deals offered by Virgin Media, including bundled Virgin TV deals. If you need a TV, phone, or both, you can get all three services bundled together. The Virgin Media broadband checker is quick and easy to use and shows all available deals to your UK address.


If you download many games online, you may notice some games such as Call of Duty are just over 100 GB. This download would take almost 24 hours if you only had a standard 10 Mbps connection speed.
Virgin Media M100 Fibre has an average download speed of 108 Mbps and would only take 2 hours and 9 minutes to download. Netflix requires at least 25 Mbps for watching Ultra HD, and you need at least 44 Mbps for watching live sports in Ultra HD.