Virgin Media

M600

&

Volt

Broadband Speeds and Prices Guide

How Do I Know I Am On The Right Offer Page?
When you click one of our links we take you straight to the Virgin postcode page. It should look similar to the below screenshot. Ensuring you are on the right page not only helps deliver you the best customer experience with London Broadband, but it also insures we get paid as well. A win-win for everyone!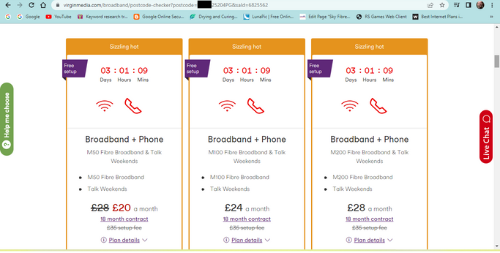 Comparing Download & Upload Speeds for Virgin Media M600
Virgin Media M600 fibre features a download speed of 630 Mbps which can download Fortnite, an online game that is 17.5 GB in size. When compared to Ultrafast Broadband with download speeds of 200 Mbps, ultrafast fibre would take 11.6 minutes to download Fortnite. Most UK households have Superfast fibre with average speeds of 67 Mbps with a download time of over 36 minutes.
If fast download times are extremely important to you, than you will definitely want to get Virgin Media M600 or Virgin Gig1 Fibre if available in your area. Here is the best deal currently on offer for bundling your broadband and TV and mobile phone with O2. If you want to pay just one bill for all of your communications we are sure Virgin would love to be your hub.
TV Channels Included in Ultimate Volt Bundle
If you're looking to bundle your broadband & TV services with Virgin Media, you may look at the Ultimate Volt Bundle on sale for just £85 per month & FREE SETUP!. The Ultimate Volt bundle comes with 230+ TV channels, including favourites like BT Sport 4K UHD, All Sky Sports channels, Sky Cinema, and other Sky channels in HD.

In addition to having incredible download speeds and an entire library of quality TV channels, you also get Unlimited SIM Data with O2 Mobile. In addition to Unlimited Data, you also get unlimited calling and texting across the UK.
Does Gig1/M600 Fibre Broadband Come With a Minimum Speed Guarantee?
Yes, Virgin Media Gig1 Fibre guarantees a minimum of 565 Mbps download speeds or 315 Mbps for M600 fibre internet. Virgin Media has established itself as one of the fastest widely available broadband providers in the UK, according to the latest OfCom provider internet speeds report. To see if the Ultimate Volt bundle is available near you please visit the link below, and we will also Donate £5 for switching using our website.
Virgin Media
Big Bundle Deal
£75 Bill Credit!


Virgin Media
Big Bundle + Drama
£75 Bill Credit!

Virgin Media
Big Bundle + O2 SIM
£75 Bill Credit!


Virgin Media
Biggest TV Bundle
+ O2 SIM