Plusnet Unlimited Broadband from £18.50 Per Month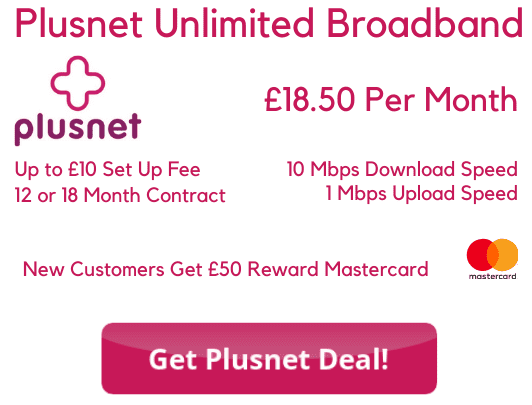 Plusnet Unlimited Broadband Speeds
Plusnet Unlimited Broadband includes a reliable 10 Mbps download speed with a monthly price of only £18.99 per month.
Our comparison tool allows you to quickly compare all three Plusnet unlimited fibre and internet deals offered below. Our recommendation is Plusnet Unlimited Fibre Extra, as Netflix requires a minimum 25 Mbps download speed for watching Ultra HD shows.
Currently, Plusnet offers free activation and is available for a limited time only. You can get different term contracts with Plusnet, including a 12-month contract for basic broadband. Plusnet also sends reminder emails to customers, so they don't receive a nasty bill in the mail.
How Much is Basic Plusnet Broadband?
The lowest price we have seen Plusnet Unlimited Broadband is £18.99 per month with a £50 Plusnet Reward Mastercard. When you factor in the Reward Mastercard, it is only £14.10 per month for 18 months. The price is currently £18.99 and has been as high as £19.99 during specific periods of the year.
Is Plusnet Unlimited Broadband fast enough for Ultra HD?
Netflix has released its minimum broadband speed requirements for HD, and Ultra HD, with HD only needing 5 Mbps download speeds, but Ultra HD requires 25 Mbps. Unfortunately, 10 Mbps would be too slow, but Plusnet offers a cheap Plusnet Unlimited Fibre option or Plusnet Unlimited Fibre Extra. We have listed ALL Plusnet broadband deals below for your convenience.
Plusnet Unlimited Broadband

Plusnet Reward Card

£70 Reward Card!

£18 .99 /Month
Plusnet Unlimited Fibre

Plusnet Reward Card

£50 Reward Card!

£22 .99 /Month
Plusnet Unlimited Fibre Extra

Plusnet Reward Card

£70 Reward Card!

£24 .99 /Month