Plusnet Unlimited Broadband

from £18.99 Per Month
Plusnet Unlimited Broadband includes a reliable 10 Mbps download speed with a monthly price of only £18.99 per month. New customers can also enjoy a Plusnet Reward Mastercard worth £65 and generally receive their Reward Mastercard within 30 days of submitting their claim.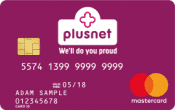 Plusnet offers free activation and this is the ONLY ADSL DEAL with a 12 Month Contract! 
Plusnet Deals for May 2022
Is Plusnet Unlimited Broadband Fast Enough for Ultra HD?
If you're wondering if Plusnet Unlimited Fibre Extra will be fast enough for your household we recommend trying our Free Broadband Speed Calculator. Our 100% impartial calculator will calculate the total amount of download speeds your devices use based on industry minimum requirements.
Netflix recommends a minimum 15 Mbps for using its 4K streaming service, YouTube/Google also recommend 20 Mbps for Youtube Premium. Smaller households on a tight budget with a download speed of under 70 Mbps