BT Fibre 250 ⋆ Offers Download Speeds Up to 300 Mbps
BT Fibre 250 is also referred to as BT Full Fibre 300 and features download speeds of up to 300 Mbps and upload speeds of 41 Mbps. We have listed the three most popular BT broadband deals for easy comparison, including BT Fibre 2 with a £90 Reward Mastercard for new customers!
BT Broadband 3 Most Popular Deals

#3 UK Provider!
Most Popular Deal!

70 Mbps Stay Fast Guarantee!

100 Mbps
BT Stay Fast Gurantee!

250 Mbps
BT Stay Fast Gurantee!
Is BT Fibre 250 Considered FTTP (Fibre To The Premises) broadband?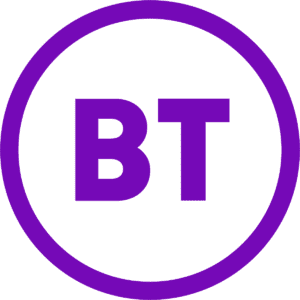 BT Fibre 250 uses the latest FTTP technology known as Fibre To The Premises and uses pure optic fibre. The optical fibre is connected directly to your premises/home from the central BT exchange. FTTC or  Fibre To The Cabinet technology has optic fibre connected from the Exchange to the cabinet. Download speeds can reach up to 910 Mbps.
Copper wires deliver the speed from the street cabinet into the home, offering max speeds of 76 Mbps. Full Fibre offers much faster downloading times, essential for those who play many games online or work from home.
If you're unsure how much bandwidth or broadband speeds you need, we recommend checking out our bandwidth calculator. It calculates your broadband speed based on your broadband usage, and you can sum up to 10 people in your household.
You may notice that smart TV's use a lot of bandwidth, and that is because Ultra HD requires at least 25 Mbps, as listed on Netflix. 

Comparing Broadband Speeds With Other Broadband Speeds/Deals
We have provided a comprehensive broadband speed chart if you're curious to see how BT Full Fibre 300 stacks up against the competition.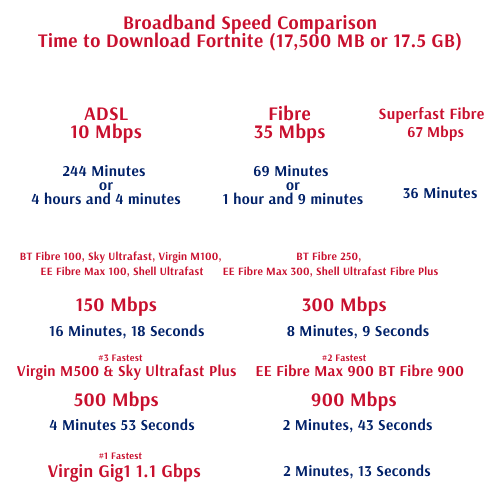 Based on the chart's download speeds, you can see that BT Fibre 250 can download Fortnite in as little as 8 minutes. This is compared to ADSL, which would take over four hours to download in comparison. BT Essential fibre with 35 Mbps can download Fortnite in just an hour.
The most popular BT broadband plan is BT Fibre 2, which would take 36 minutes and is twice as fast as Essential broadband. BT Fibre 2 and BT Fibre 1 also offers new customers a BT Reward Mastercard for switching providers!