Sky Broadband Deals for 2021
Broadband Only
Fibre & TV
Sky Essential

Set Up Fee

£19.95 ⋆ Up to £39.95 W/ TV
Sky Superfast Fibre

Set Up Fee

£19.95 ⋆ Up to £39.95 W/ TV
Sky Ultrafast Fibre

Set Up Fee

£19.95 ⋆ Up to £39.95 W/ TV
Sky Essential Broadband Product Overview
Sky Essential broadband features 10 Mbps download speeds and 1 Mbps upload speeds for £25 per month. This broadband plan is ideal for seniors who just browse the internet and mainly just want broadband for their phone line. If you want to watch Ultra HD on your 4K television you will need at least 25 Mbps download speed according to Netflix.
That is why we recommend getting Sky Superfast fibre as it is a good price and they sometimes offer Free UK calling with their Triple Play Bundle.
Plans come on a standard 18-month contract with a £9.95 Set-Up fee and line rental. Sky offers great deals on call plans including UK and International calling from as little as £10 for Anytime UK calling or £12 for Anytime International calling.
---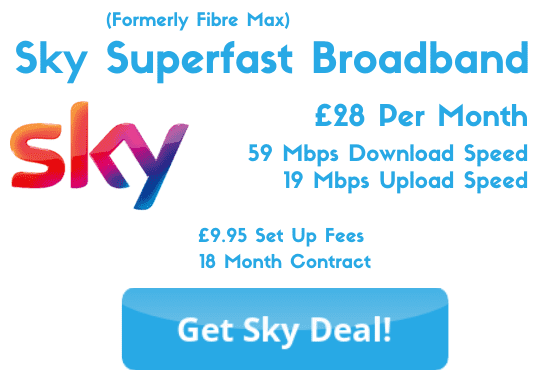 Sky Superfast Broadband (Formerly Sky Fibre Max) Product Overview
Over 96% of UK households have access to Sky Superfast broadband which has download speeds from 67 Mbps to 74 Mbps and is £28 per month. Sky Superfast fibre was previously referred to as Sky Fibre Max but changed names in 2019 to reflect the broadband speed offered.
Sky also offers a minimum speed guarantee of 55 Mbps to give you peace of mind of a reliable broadband provider. You can enjoy upload speeds of 19 Mbps with unlimited bandwidth included for peace of mind. Sky superfast broadband is available on an 18-month contract with a £9.95 set up fee.
Sky Superfast fibre is fast enough for watching Ultra HD on Netflix which requires at least a 25 Mbps download speeds. Keep in mind that smaller households will do fine with superfast but larger households may benefit more with ultrafast fibre.
---
Sky Ultrafast Broadband Product Overview
Ultrafast broadband from Sky is £35 Per Month for 145 Mbps download speeds and 28 Mbps upload speeds. Sky Ultrafast broadband will eliminate the amount of time the kids are squabbling over how long their apps take to download and install. Sky Ultrafast is also very awesome at streaming 4K television so you can watch your live sports in Ultra HD in London and any UK city.
If you play games online you would also see your downloading times drastically reduced as well. Sky Essential with an average speed of 10 Mbps would take over four hours to download Fortnite. Sky Ultrafast would have this same download finished in just under 17 minutes.
Sky Ultrafast broadband has amazing uploading speeds for when you upload your TikToks or photos to Facebook. As you can imagine a photographer would definitely benefit from faster upload speeds as they upload several photos at once.
---
Our Recommendations for Sky Broadband
Sky Broadband is a well known UK broadband provider that has consistently been in the top five broadband providers for several years like Tiesto has on the charts. We recommend that you should get Sky Superfast broadband as it has enough speed for Ultra HD for watching Netflix and Sky Live Sports. You will have enough broadband speed to watch Ultra HD whilst the kids are playing video games online.
Should I Get Sky Ultrafast Fibre?
Upgrading your broadband to ultrafast fibre comes down to a couple of questions. The first important question is: Do download times matter to you? Some customers may not play video games, download large files, or watch Ultra HD. If that applies to you, then Superfast is a better option for you. Otherwise, read below to find out about the advantages of Ultrafast fibre.
If you have downloaded a game recently you will notice it can be a very large download. Fortnite is a very popular video game and is a 17.5 GB download. For example, if you have Sky Essential broadband it would take 3 hours and 42 minutes for the download to complete. Sky Superfast fibre would be able to reduce this to just 41 minutes of waiting but Sky Ultrafast fibre would only take 16 minutes.
Sky Superfast Fibre Recommendation
If you don't use the internet very often we still recommend Sky Superfast fibre as it is just £2 more per month. Also, it is better to have a little bit more broadband than not enough. When you don't have enough broadband you end up calling the provider for an upgrade. This results in unnecessary engineer visits where they may charge an additional fee for having to send out an engineer.
If you are a gamer you already know that Sky ultrafast fibre is the plan you want but you needed to show your parents how important fast broadband speed is, it definitely is! Your broadband speed can have "Jitter" which is what causes lagging online. Sky Superfast and Ultrafast fibre both have low "Jitter" with its own dedicated line and is perfect for online gaming.
As mentioned above the main reason for getting Ultrafast fibre is for faster downloading times for those that play games, download movies, albums, music, etc. If you are not fussed about download times than Superfast fibre will do just the trick.
Broadband Deals for Sky Currently On Offer
Sky Broadband offers three different broadband deals although we strongly recommend getting either Sky Superfast Fibre or Sky Ultrafast Fibre. Why? Because Sky Superfast Fibre is just £1 Per Month more than Sky Essential broadband and 6x faster broadband speeds. 
If you got a 4K or 8K television this Christmas and want to watch Netflix in Ultra HD (UHD) you will need at least 25 Mbps download speeds. This application alone would require more broadband speed than Sky Essential broadband and 42% of the available bandwidth of Sky Superfast fibre.
If you were planning to watch YouTube in Ultra HD it would use 40 Mbps of download speed. This increases to 44 Mbps if you watch Manchester United go to battle with Liverpool on BT Sport or the Sky Premier League channel. If you want to BUNDLE EVERYTHING we created the Sky Super Complete bundle which gives you everything for one price of £131.99 per month.
This bundle is geared towards those just needing unlimited UK calls. The most expensive deal on offer from Sky is £133.99 per month and includes EVERYTHING and we call it the Sky Ultra Complete Bundle. It has EVERYTHING included except for just £2 more per month you get INTERNATIONAL CALLING included in this ALL INCLUSIVE VIP DEAL!