Plusnet Unlimited Broadband 12 Months for £18.99 Per Month


If You Switch With Us We Will Donate £5 to a Local UK GoFundMe located on our about us page.
Plusnet unlimited broadband offers 10 Mbps download and 1 Mbps upload speeds and you can get a shorter 12-month contract term. Customers enjoy unlimited data with a free high-quality broadband router and you will receive a £70 Plusnet Reward Card for switching providers.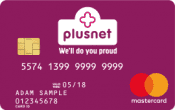 Plusnet Broadband: One Of the UK's Best Broadband Providers
Plusnet has received a number of broadband awards in recent years, including Best Provider and Customer Service 2019. It is clear that Plusnet customers feel they not only get the best broadband service, but also the best deal!
Plusnet launched its fibre broadband service in 2012 and uses the OpenReach network for superfast fibre with an average speed of 66 Mbps. Plusnet broadband is one of the best options for those looking for internet on a budget.
Plusnet's unlimited broadband plans are perfect for daily internet use on a single device as long as you don't use 4K TV as it requires at least 25 Mbps download speeds.