Plusnet Full Fibre Launched With 3 Different Speed Deals!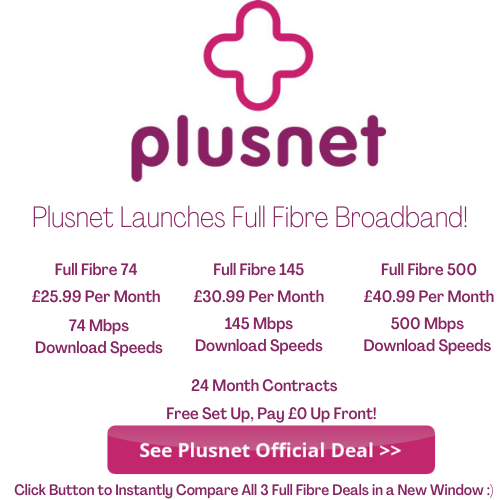 Plusnet Broadband has officially launched FTTP services to customers across the UK with three different full fibre packages including Full Fibre 74, Full Fibre 145, and Full Fibre 500.
Much Will Plusnet Full Fibre Cost? What Download Speeds Are Offered?
Full Fibre 74 with 74 Mbps download speeds will cost £25.99 per month
Full Fibre 145 with 145 Mbps download speeds will cost £30.99 per month
Full Fibre 500 with 500 Mbps download speeds will cost £40.99 per month

Take a look at our download speed comparison chart below to give you an idea of downloading times for online games and watching 4K movies.
Plusnet Full Fibre Launched August 3rd 2022
Plusnet is starting off with three different speed packages for customers looking for full fibre download speeds but we believe they may have plans to launch 900 Mbps download speeds in the future. This is exciting news for Plusnet customers who have been waiting ages to get full fibre broadband!
Other Offers in Case You Can Only Get ADSL

Only recommended for 5 or less devices in Home
Comparing Plusnet Full Fibre With Other UK Broadband Providers
Currently, Plusnet Full Fibre 145 priced at £35 per month would put it as 6th cheapest compared to other Ultrafast broadband providers. If Plusnet offers a reward card like it does with its fibre extra and fibre plans then it could challenge the likes of Gigaclear, Virgin Media, and Hyperoptic for cheap full fibre.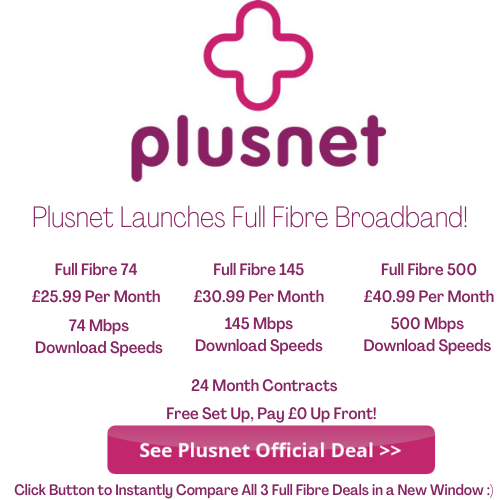 Full Fibre Download Speed Times
The biggest reason broadband customers like to get the fastest broadband is to reduce download times for large files and gaming online. Did you know that downloading Fortnite to your gaming console requires 17.5 GB of space and nearly 36 minutes of download time for superfast fibre?