Best BT Internet Deals 2021
Deals Sorted by Broadband Speed ★ Avg Monthly Cost Includes Fees & Discounts

BT Offers Reward Cards for Fibre 1, Fibre 2, and Full Fibre

Great for Households Without UHD (4K) TV's.

Monthly Cost With Fees & Rewards £29.82

41 Mbps StayFast Guarantee

#3 UK Provider!
Most Popular Deal!

70 Mbps StayFast Guarantee!

100 Mbps
BT StayFast Gurantee!

250 Mbps
BT StayFast Gurantee!

455 Mbps
BT StayFast Gurantee!

£1259.79 Contract Cost With 3 Months Free
The Best BT Broadband January 2021 Internet Deal
BT Broadband offers their Fibre 2 broadband plan for just £32.99 per month and an £110 Reward Card for switching providers. So far, this is one of the best superfast fibre internet deals on offer by BT Broadband. It has been since March 2019 that BT Fibre 2 was £29.99 per month and is on sale again!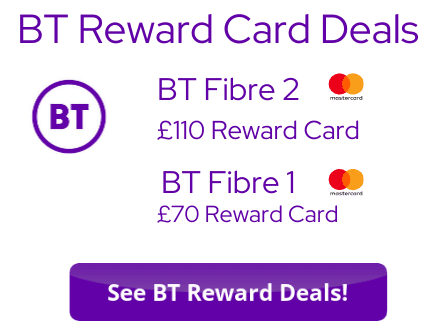 BT Fibre 2 offers download speeds of 67 Mbps and upload speeds of 19 Mbps and is great for watching Ultra HD television. If you plan to watch Ultra HD TV, you need at least 25 Mbps to download speed for Netflix UHD to operate on your TV.
How Long Is The Contract Term for BT?
This BT Fibre 2 internet deal for £29.99 per month is on a 24-month contract term just like in 2020. Another great feature of this deal is that BT offers a minimum speed guarantee. If BT fails to deliver the promised advertised speed, you can claim a £20 bill credit up to four times per year. In addition to the bill credit, you can leave the contract early without penalty.

Does BT Have a Full Fibre Internet Deal?
Once in a while, BT will offer a BT Reward Mastercard for Full Fibre 100, but at this time, no reward is offered. BT Broadband offers free set-up on all of its Full Fibre internet plans, including Full Fibre 100, Full Fibre 250, and Full Fibre 900. We have listed the full fibre internet plans currently on offer by BT Broadband.
Can I Get TV With This BT Internet Deal?
The best part of this internet deal is that you can also add BT Entertainment (TV) for one low monthly payment of £34.99 per month. Instead of an £80 BT Reward Mastercard, this offer comes with a £90 BT Reward Mastercard for new customers! You can look at the latest BT Internet and TV deals on our BT TV bundle page.
In addition to Fibre 2 download speeds of 67 Mbps, you get over 300 boxsets and Sky exclusive channels like Sky Atlantic and Sky One. BT has also included the NOW TV subscription, and you can record up to 300 hours of televisions shows to watch at your leisure.