BT Broadband TV Deals On Offer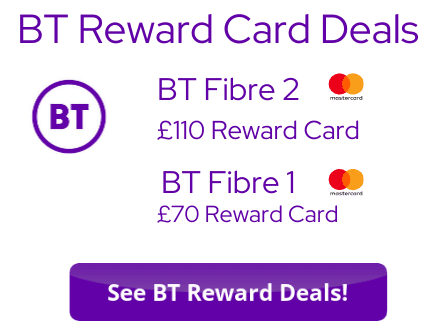 BT Broadband offers really great deals for TV and broadband and offer faster broadband speeds than Sky's TV bundles. The BT Entertainment bundle is £43.99 per month and offers 136 channels, not on Freeview.
If you only need broadband, you could get a BT broadband TV deal with a BT Reward Mastercard worth up to £120. You can even use the Reward Mastercard on Amazon and get some great deals in the new year.
When you switch to BT, it only takes up to 30 days to receive it and use it. All BT TV and broadband plans qualify for the BT Reward Mastercard for any new customers that sign up.
BT Sport on BT TV with Superfast Fibre
If you are looking to get BT Sport and Superfast fibre, you can get it for as low as £46.99 per month. If you are the ultimate sports enthusiast and want Sky Sports added to your bundle, it is just £71.99 per month.
This is the perfect bundle if you plan to watch the Premier League in Ultra HD with superfast broadband. You will most likely want to see our BT TV Deal page where you can see the latest packages on offer from BT TV.
You probably already know that BT is one of the Top Ranked Broadband Providers in the UK. If you don't, we have the latest report released by Ofcom that shows the top broadband providers in 2020.
BT has two different fibre broadband deals currently on offer for BT Fibre 1 and BT Fibre 2. BT Fibre Superfast 1 offers a 50 Mbps download speed, whilst BT Superfast Fibre 2 offers 67 Mbps download speeds.