Virgin Media Student Broadband Offers
| | | |
| --- | --- | --- |
| | | |
| | | |
| | | |
Student Broadband & TV Deals
If you are looking for amazing deals for "Student Broadband", you will be excited to know that Virgin Media has excellent deals for both broadband only deals from Virgin and broadband with TV deals.


Virgin Media also offers some of the fastest broadband speeds for a fraction of the price of other broadband providers such as BT, which only provides 50 Mbps for £29.99. It makes sense to double your speed for £3 less per month.
Virgin Media also ranks in the Top 3 of best UK broadband providers. OfCom provides a yearly report card for the best broadband providers. Virgin Media also offers the fastest broadband speeds and is available to 44% of UK households, with that number rising to 52% by the end of 2020.


What Broadband Deal Should I Get?
This is always a tricky question for those unfamiliar with the internet and just starting on their own. What broadband package you should get depends on what you like to do on the internet. According to Netflix, if you stream 4K or UHD resolutions, you will need at least 25 Mbps to run without glitching or lagging.
If you play games online, then you will want a faster broadband speed to give you a seamless connection to others. The basic M100 plan from Virgin Media offers 108 Mbps download speed which is perfect for most households.


What About Faster Download Speeds Like 213 Mbps, 362 Mbps, and 516 Mbps?
These speeds are generally for bigger households or if more than one gamer plays online—the faster the broadband connection, the lower the latency for gaming. If you are a competitive gamer, you already know how important fast broadband speeds are.
If you download many movies or games online, you will want to see our chart below to see how fast your downloads can be with faster broadband speeds.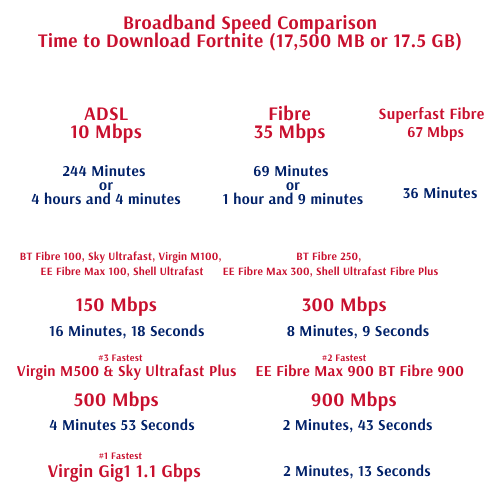 | | | |
| --- | --- | --- |
| | | |
| | | |
| | | |