Best Business Broadband Deals for Businesses in the UK
If you are a business owner in London or elsewhere in the UK, looking for the best deal on business broadband, you have come to the right place. We are one of the few comparison sites that give customers the option of seeing the Total Contract Price.
Most Reliable Business Broadband Deals on Offer
Reliable Superfast Broadband!

Halo for Business
900 Mbps

Complete Wi-Fi Guarantee!
Cheapest Business Broadband Deals on Offer

Plusnet Business Broadband Deals

Plusnet Business Broadband

£18.00 Per Month ★ Broadband Only


£24.50 Per Month ★ Unlimited UK Calls


£22.00 Per Month ★ Fibre Only

£28.50 Per Month ★ Unlimited UK Calls
We take the monthly price and multiply it by the number of months of the contract. We also add in any setup fees or subtract any reward cards to calculate the final total. 
What Are The Best Business Broadband Deals With Phone?
Plusnet Business broadband offers insanely cheap business fibre and phone bundles from as low as £25 per month for Unlimited Anytime UK Calling. If you are looking to save money on a fibre and phone bundle, you won't find it cheaper anywhere else. You can make calls to any UK phone number with the prefixes 01, 02, and 03.
Which Business Broadband Provider Should I Choose For My Business?
Choosing the right business broadband provider doesn't always come down to price but also reliability. Plusnet Business broadband offers a big price difference, but BT Business Enhanced Fibre offers 4G Assure. The 4G Assure service from BT Business broadband offers an "Always Connected Guarantee" where your broadband automatically switches to 4G broadband.
If you have ever experienced a "broadband fault" where your service goes out, your business misses out on sales, and you get unhappy customers. The 4G Assure service from BT Business broadband has a 24/7 monitoring service, and once it detects a fault, your service is switched to 4G broadband until the issue is resolved.
How Long Does BT Business Fibre Have To Respond If The Broadband Cuts Out?
Answer: BT Business fibre has a MAXIMUM of 30 minutes to fix your broadband connection issues or get a £25 refund. The "Always Connected Guarantee" 4G Assure service comes standard with BT Superfast Fibre Enhanced, Ultrafast Fibre 1, and Ultrafast Fibre 2. The contract price difference between Plusnet Business superfast fibre and BT Business Enhanced Superfast fibre is £303.76. 
                         or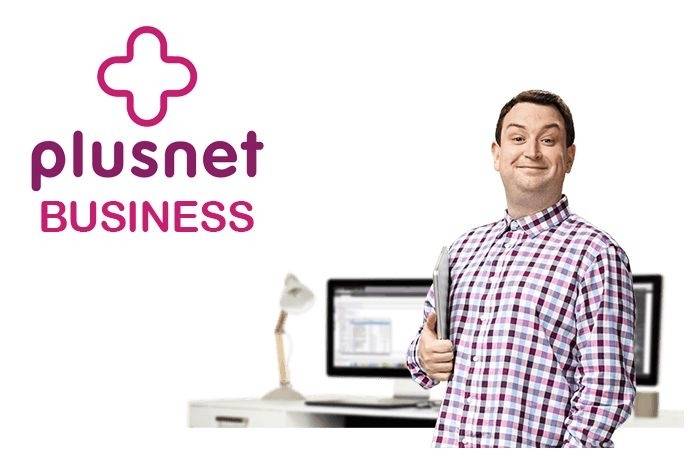 One big advantage that BT Business broadband does offer is faster business broadband speeds with incredible download speeds. BT Business Ultrafast 1 offers download speeds of 145 Mbps and upload speeds of 27 Mbps. BT Business Ultrafast Fibre 2 offers download speeds of 285-300 Mbps and upload speeds of 36 Mbps – 45 Mbps. 
Depending on the size of your business, you may be better suited for Plusnet Business fibre; however, larger firms and businesses may need the speeds of BT Business ultrafast fibre. If you're not sure how fast your current broadband speed is, we have a Free Speed Test for you to use. It will open up in a new window to close it once you have received your broadband speed results.
This will give you a good indication of what broadband speeds your business requires. Keep in mind that faster broadband speeds mean more credit card transactions that can be processed. BT Business Broadband also offers "Free Guest Wi-Fi" for your customers and clients. This allows them to relax whilst waiting for an appointment or meeting and provides extra convenience.

Business Broadband Customer Service
BT Business Broadband and Plusnet Business broadband offer amazing customer service for their business clients and treat them like gold. Plusnet did rank higher than BT in the OfCom rankings, where they track customer complaints and customer satisfaction. OfCom also now ranks companies based on "Reliability" and "Speed of Service".
It is no secret that Plusnet customers (82%) were slightly less satisfied than BT customers (84%) for speed of service as BT offers nearly 4x faster broadband speeds. Plusnet customers were pleased with the reliability of their broadband with 85%, with BT customers with 86%. Plusnet broadband came in #1 for customer "Overall Satisfaction" with 93%, and BT Broadband came in 3rd with 86%. We have included the infographic from OfCom to give you an idea of how customers liked their broadband provider.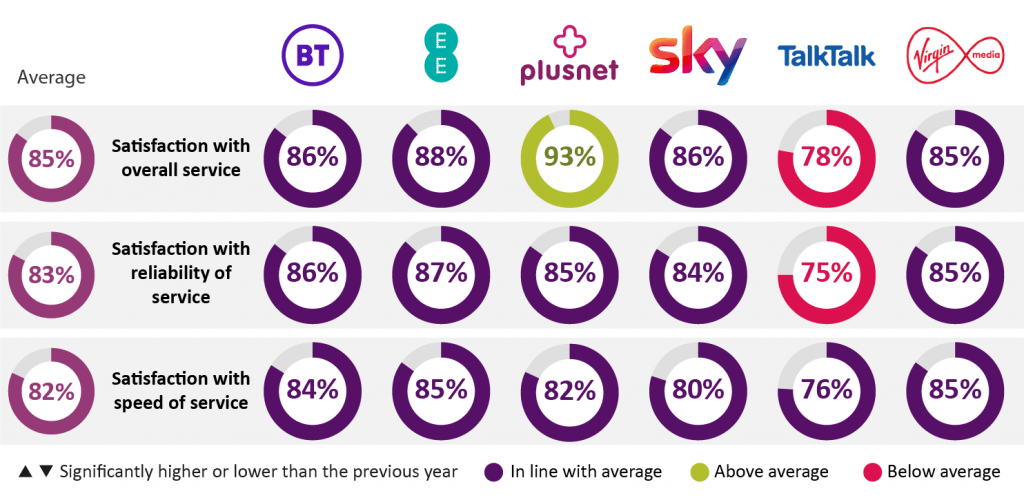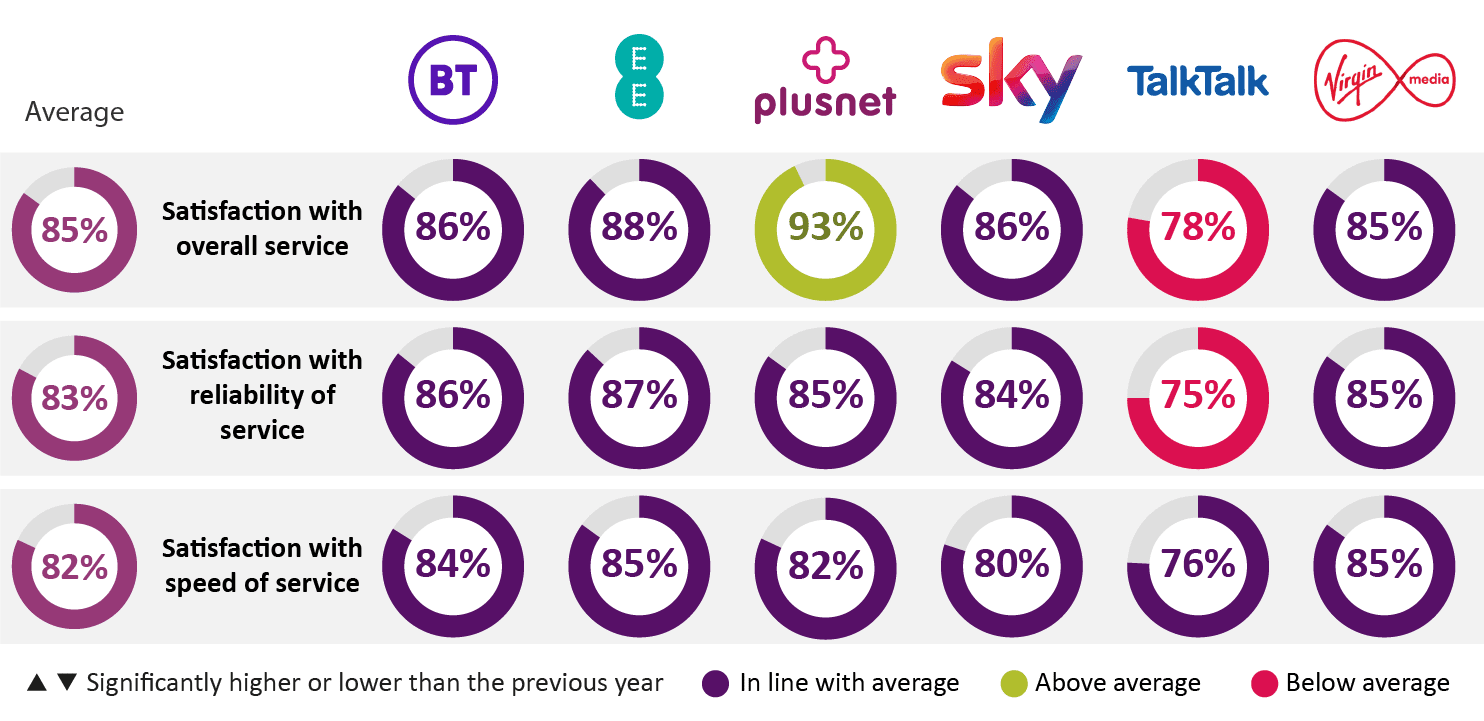 In Summary, if you are looking for an affordable business broadband service with great customer service, Plusnet Business broadband is a brilliant choice. If your business needs faster broadband speeds or the assurance of 4G Assure, we suggest going with BT Business Broadband.