Check Sky Broadband Deals During the Month of June 2022
Sky Wi-Fi Guarantee £5 Extra Per Month

Sky Wi-Fi Guarantee £5 Extra Per Month

Sky Wi-Fi Guarantee £5 Extra Per Month

Sky Wi-Fi Guarantee £5 Extra Per Month
Not Sure What Broadband Download and Upload Speed You Need?
Some customers looking for a broadband deal or bundle might not be aware of the broadband speed their devices use. Did you know that Netflix recommends a minimum 15 Mbps download speed for watching 4K on its platform? HD quality requires 5 Mbps and YouTube Premium also offers a 4K service with a recommended speed of 20 Mbps.
Our free calculator will help you determine which Sky internet package will be right for your household. (We made it so it opens in a new tab or window for you so you can close it and easily check your favourite Sky broadband deals.
Sky Gigafast Broadband – Sky's Fastest Internet With 900 Mbps Download Speeds!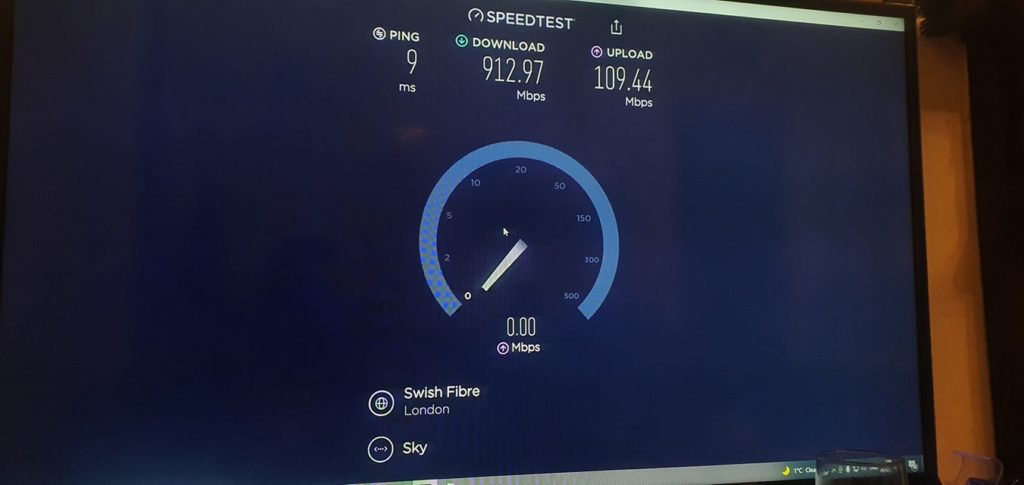 Actual Broadband Speed Check for Sky Gigafast in Manchester, UK. 
If you're looking for absolutely unreal broadband you can count on Sky Gigafast for delivering faster then advertised speeds in both download and upload speed categories. If you're looking for the fastest full fibre package Sky has to offer this is definitely it! Here is the latest offer for Sky Gigafast Full Fibre, please click the image to get started. Please wait a few seconds for the offer to open in a new tab, sometimes the internet is turtle slow and the deal page takes a bit of time to load. You are beautiful and incredible and appreciate all of your support!
In the comparison shown above you can clearly see the science of just how fast Sky Gigafast is for downloading large files or media. For broadband customers on a budget you may want Sky Ultrafast Fibre priced at a family affordable £32 per month. All of the broadband deals offered by Sky include UNLIMITED BROADBAND/BANDWIDTH. 
You will never have to track how much data Little Johnny is using playing Fortnite with his friends. We made it easy by avoiding listing any deals or contracts where unlimited data isn't offered. We want to make switching to a new UK provider super easy by giving you the best deals with the no headaches or mental gymnastics.