Best Virgin Media Offer ★ Ultrafast Broadband £27 Per Month
Virgin Media offers 108 Mbps download speeds and unlimited weekend calling with your landline! Below you can compare the three most popular broadband and landline offers which all include free unlimited weekend calling.
| | | |
| --- | --- | --- |
| | | |
| | | |
| | | |
Do These Offers Come With Free Set Up?
Yes, you can enjoy Free Set-Up fees on ALL Virgin Media broadband and phone offers. The best part of switching to Virgin Media is that you get one of the fastest broadband speeds available for a brilliant price.
If you compare this M100 Fibre offer with Sky Ultrafast broadband with Pay As You Go calling you are looking at paying £8 Per Month more for Sky. This works out to £144 in savings during the 18 month contract. Not to mention you can enjoy unlimited weekend calling at no extra cost.

Virgin Media Hub 3 Router
The Virgin Media Hub 3 Router uses smart Wi-Fi intelligence and automatically shifts your bandwidth to the devices that need it. This will ensure you always have the best possible connection at every possible moment. 
The download speed of 108 Mbps is perfect for most UK households looking for decent ultrafast fibre speeds. We have included a chart below to give you an idea of the different download speeds for Fortnite.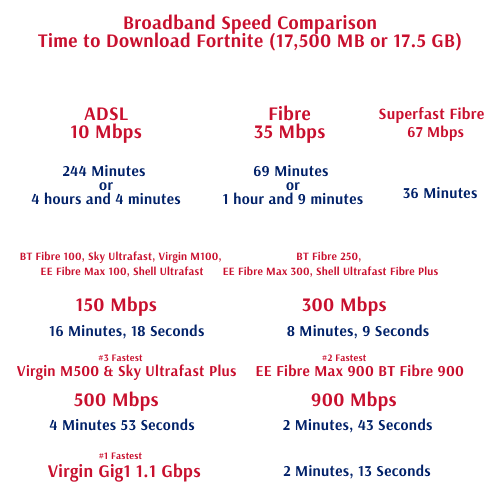 As you can see from the chart above Virgin Media M100 offers 10x faster speeds than ADSL broadband and can reduce download times significantly. Faster broadband will save you a lot of time downloading if you download several large files every day. 

Virgin Media TV Offers
If you're looking to bundle both Virgin Media broadband and TV you can get both services from just £29.99 per month. If you're looking to get ultrafast fibre you will have the best luck with Virgin Media.
The reason we say that is because Virgin Media ultrafast fibre is available to 37% of UK households. Sky Ultrafast Plus is only available to 15.3% of households whilst BT & EE sit at just 8% coverage currently. The Virgin Volt Big Bundle is just £45.00 per month and offers at least 100 channels not on Freeview TV. 
Unlimited Speeds
M100 Fibre

With All Fees and Discounts!


With All Fees and Discounts!

With All Fees and Discounts!


With All Fees and Discounts!

With All Fees and Discounts!

With All Fees and Discounts!
Virgin Media Unlimited Weekend Calling.
A big advantage this triple play bundle has over its competitors is that Virgin Media includes Free Unlimited Weekend Calling. In comparison, Sky only offers Pay As You Go calling with its broadband plans.
Having free unlimited weekend calling is great for those who like to catch up with family and friends during the weekend. This feature is offered as standard across all broadband plans except M600 fibre has unlimited anytime UK calling.

Why Should I Get A Broadband Deal With London Broadband?
Big Ben aka Ben Cloutier from London Broadband absolutely Loves finding the best deals and prices for customers like you! No one likes to overpay for broadband and we are no different, we are on YOUR side. 
Whilst it is no secret that different plans offer different commissions, we are motivated to make our customers 300% Happy! We want to give our customers the most professional, relaxed, and confident experience knowing they can trust us.
We also base our recommendations on our bandwidth calculator to help give you an idea of the speeds you need. You can tell us which providers you like and which you don't and we will deliver free tailor-made packages. If you switch with us we will Donate £5 to a local UK GoFundMe on our about us page.