Sky Mobile Phones Deals on Offer for Samsung & Apple Phones
Below is our side by side comparison of Samsung and Apple mobile phone deals from Sky Mobile. We compared the Samsung Galaxy S21, Sky Mobile Apple iPhone 12, and the Samsung Galaxy S21+. The monthly prices listed are based on a 12 GB data plan with 128 GB storage selected for each phone. 
| | |
| --- | --- |
| | |
| | |
What Does "Rolling" or "Sharing" Your Data Mean?
Sky Mobile phones and plans offer "Rolling Data", where your monthly unused data "rolls" into the next month. It is commonly referred to as the Sky Mobile Piggy Bank, and you can share data with up to seven devices.

Another fantastic feature Sky offers is giving customers the ability to share their data with other mobiles. It is as easy as adding a new SIM card to your account for where you want the data to be used. Sky gives customers the most value for their data plans out of the major UK mobile providers.

What Happens If You Stockpile Loads of Data?
You may find the leftover unused data stacking up over the months during your contract. Don't worry; Sky Mobile allows you to convert your new data towards purchasing another mobile phone.
This is another fantastic feature for Sky mobile customers and guarantees no data goes unused. You can upgrade your Sky mobile plan quickly if you need to increase or decrease your data allowance.
Comparing Prices ⋆ Samsung Galaxy S21 and Apple iPhone 12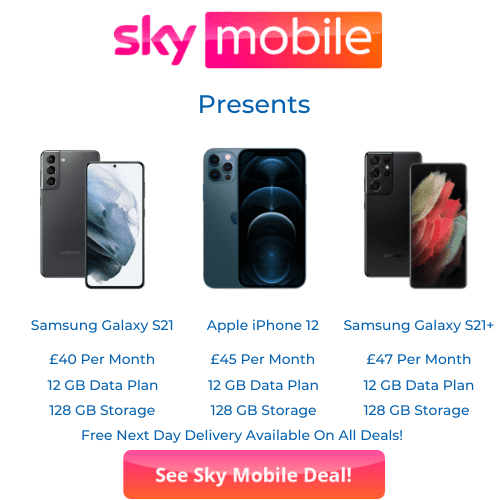 The monthly cost of the Samsung Galaxy S21, S21+ and Apple iPhone 12 are all within £7 per month of each other. When you compare the same 128 GB storage options, the Samsung Galaxy S21 is the cheapest at £40 Per Month. The Apple iPhone 12 is priced at £45 Per Month, with the Galaxy S21+ costing £47 Per Month.
It should be noted that because the Apple iPhone 12 offers a smaller 64 GB storage option, they offer the cheapest Sky mobile offer. The cheapest mobile deal available is £37 Per Month for Apple's iPhone 12 and is £3 more affordable than the Galaxy S21.

Can I Check My Coverage Area to See If Sky Mobile Is Available?
Yes, you can see the official Sky mobile coverage checker and see if Sky mobile covers your area. It opens in a new window so that you can close it and go to the official Sky Mobile offer page by visiting the link below. (This also helps us get paid commission for helping you find a brilliant deal.