Unfortunately the Plusnet £100 Reward Card Offer Expired
The good news is the latest Reward Card offers from Plusnet 

are listed below!
Other Offers in Case You Can Only Get ADSL

Only recommended for 5 or less devices in Home
What Plans Qualify for the Plusnet Reward Mastercard?
Plusnet offers its flagship Plusnet Reward Mastercard on ALL three of its affordable broadband plans. Plusnet Unlimited Fibre Extra typically sees the highest value card out of the three broadband speeds but does vary. It is usually the cheapest broadband plan available for superfast fibre with 66 Mbps download speeds.
The highest value of £100 was last offered in July 2021 with the average value being between £65 and £75. You can still get the reward Mastercard when you bundle phone services such as unlimited UK calling or international calls.

Where Can I Use the Plusnet Reward Card?
The Plusnet Reward Card is a prepaid MasterCard and can be used at any merchant or business or the shop where MasterCard is accepted. This includes Amazon UK if you're looking to use your gift card online.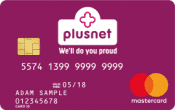 Once you sign up to Plusnet, you have two months to claim your reward, which only takes a few minutes to complete online. It is only a matter of submitting a claim form with your address so the card can be sent to your address.



Is the £100 Reward Card the Biggest Offered by Plusnet?
Answer: Yes, previously, the biggest reward card was £80 offered earlier in May 2021. Plusnet offers the best price for superfast broadband under 100 Mbps, and with the reward card, the contract cost is reduced to an average of £20.43 per month.
OfCom Broadband Provider Rankings Update
As of August 2021, OfCom released a new report that shows EE Broadband as the new broadband leader with 82% Overall Customer Satisfaction. Plusnet Broadband was not far behind with 81% customer satisfaction. Finishing in a third-place tie with 80% was the popular trio of BT, Sky, and Virgin Media.