Sky TV Deal for Existing Customers
Sky is now offering Sky TV and Sky Ultrafast broadband for a packaged deal price of £50 Per Month. New customers pay just £29.95 in set-up fees, and existing customers can upgrade their existing contract with Sky.
Brand New Customers Create New Sky TV Account
If you are a brand new customer with Sky TV, you will create your own Sky account online. This will give you access to using the Sky Go app on your phone, giving you instant access to Sky TV channels and programming.

How Fast is Sky Ultrafast Broadband?
Sky Ultrafast broadband offers 145 Mbps download speeds and 27 Mbps upload speeds, but actual speeds vary by location. We tested Manchester UK with the postcode M204PG and found Sky Ultrafast broadband available to various addresses on St. Pauls Rd.
We will compare the download differences between Sky Essential, Sky Superfast fibre (aka Sky Fibre Max), and Sky Ultrafast. Fortnite is one of the most popular digital downloads for gaming consoles and is 17.5 GB in size.
Sky Essential with 10 Mbps download speeds would take over four hours and four minutes to download Fortnite versus 36 minutes for Sky Superfast fibre. As you can guess, Sky Ultrafast fibre was even faster and would take only 16 minutes and 52 seconds.
What Channels Come With This TV and Broadband Package?
Some of the most popular channels you may be familiar with include Sky Witness, which features widespread American crime and drama TV series. Popular shows on Sky Witness include Grey's Anatomy, Chicago Fire, LAPD, Criminal Minds, and more.
Sky Atlantic is home to the top-rated Game Of Thrones TV series and The Gangs of London and The Sopranos. If you are looking for Breaking Bad and Heisenberg, Sky TV also gets popular channel AMC.
I'm an Existing Sky Customer. Can I Upgrade My TV or Broadband?
Yes, absolutely; you can click the picture below to visit Sky and begin upgrading your TV or broadband. Sky will see you came from our site and will assist you in upgrading your broadband or TV, including add ons. You can also contact them on their phone number.
Can Sky Make A Home Move?
Yes, you can visit Sky by visiting our Sky deal and either create a new account if your a brand new Sky customer or log in if you're an existing customer. Sky will switch you from your current provider and break the rough news you're switching if you're a new customer.
Existing Sky customers can log in to their Sky account and change the address online to switch services to the new address. Typically Sky only needs two weeks notice to make the change, but the more notice, the better to ensure a smooth transition.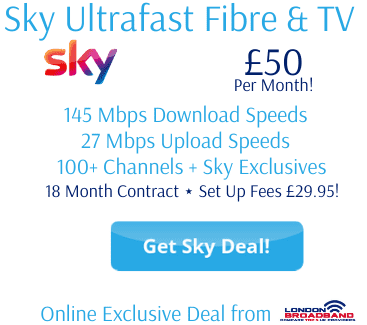 What If Sky Has a Broadband Fault?
If you experience a "fault" where your broadband connection is interrupted, you will get an extra 2 GB of data added to your Sky Mobile account. Sky also offers a minimum guaranteed download speed of 100 Mbps with Sky ultrafast fibre.
Why Existing Sky Customers Should Get Ultrafast?
If you think of broadband as the same as electricity to your home you will notice some devices use more bandwidth than others. Smart devices like Google Nest use just 3 Mbps, however, they add up with multiple devices. Devices that use the most bandwidth are Ultra HD devices like UHD 4K televisions.
In order for Ultra HD to work on your television, you will need at least a 25 Mbps download speed according to Netflix broadband speed recommendations. Sky Ultrafast will also download your favourite games up to 2.5 times faster than superfast fibre.