Sky TV and Broadband Deals ⋆ May 2021 New Customer Offers
Sky TV with Sky Superfast Fibre Only £42 per month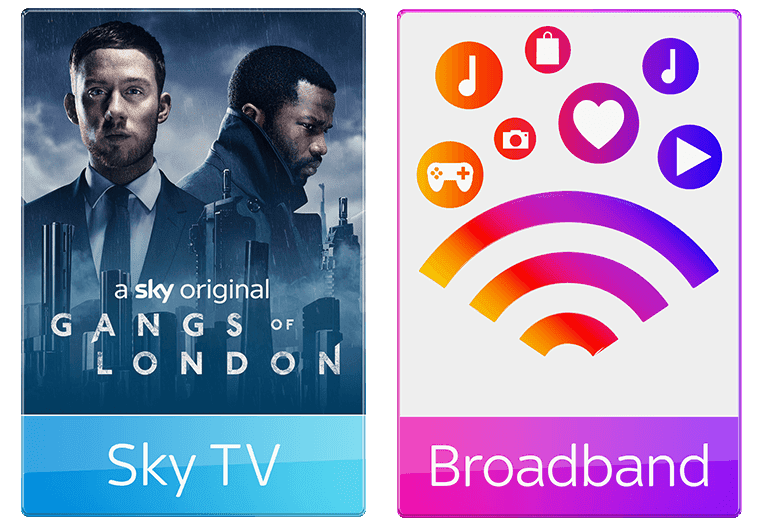 Get Sky TV with over 100 channels and Sky superfast fibre with download speeds of 59 Mbps for only £42 per month. You will get to enjoy Sky exclusive channels, including Sky Witness, Sky Atlantic, and Sky Documentaries.
Getting both Sky TV and broadband is a great way to bundle your services and save money. You can grab this incredible deal on an 18-month contract with a one time set up fee of up to £49. If you watch Ultra HD, you will want to get either Sky Superfast or Ultrafast broadband. Ultra HD requires broadband speeds of at least 25 Mbps, as you can see on the Netflix Website.
Can I Get Sky TV With Sky Ultrafast Broadband?
Yes, you can bundle Sky TV and Sky Ultrafast broadband and pay one monthly price of just £50 per month. Sky offers impressive download speeds that are great for gaming and streaming live video.
Sky Ultrafast broadband offers download speeds of up to 150 Mbps and upload speeds of up to 27 Mbps. Sky Ultrafast fibre is available in Manchester UK at postcode M204PG on St. Pauls Road.
Sky engineers are rolling out ultrafast all across the UK as more and more households are being connected to the network. If you want to see if your home is eligible for ultrafast fibre, you can click the get deal button to get started.
Can I Add Sky Sports To My Package?
Yes, if you are a sports nut and want all 11 Sky Sports channels, you can add them all onto your broadband and TV deal. The cost of adding all Sky Sports channels to your package is an extra £20 per month. The total monthly price for Sky TV, Sky Ultrafast broadband, and Sky Sports is £70 per month.
Sky is rated as one of the best UK broadband providers for customer service as they have moved up the OfCom rankings. Sky finished in a 3rd place tie with BT in 2020 and is currently #1 for the fewest complaints. You can count on Sky to give you world-class customer service with reliable broadband speeds.