Plusnet Broadband and Phone With Unlimited UK Calling
Plusnet Broadband is offering its flagship Plusnet Unlimited Fibre Extra broadband service with unlimited UK calling for £33.99 per month. New customers who join Plusnet will also get a £70 Plusnet Prepaid Mastercard for switching.
If you factor in the Reward Card with the price of the 18-month contract the average monthly price plummets to just £30.66 per month.

How Easy Is It To Switch To Plusnet Broadband?
Plusnet makes it super easy to switch broadband providers as they will break the news for you to your current provider. The only exception to this rule is Virgin Media as they operate on a different network. 
Once you have placed your order online, Plusnet Internet will have your service up and running within 10 working days of your order. Your current broadband will be fully functional until the day of your switch.
On the day of the switch, you will be off to the races with your new broadband provider without a glitch. You can read the official Plusnet switching page here to see just how easy the process is.

Are There Other Plusnet Broadband and Phone Deals?
Yes, Plusnet also offers Unlimited Broadband and Unlimited Fibre with unlimited UK calling. Plusnet Unlimited Broadband offers download speeds of 10 Mbps with a package price of £27.99 per month with UK calls. This works out to just £24.66 per month with the £60 Reward Card from Plusnet.
Plusnet Unlimited Fibre offers download speeds of 36 Mbps and is priced at £31.99 per month with unlimited UK calls. The average monthly price drops to £28.66 per month with the Plusnet £60 Reward Card.

What Type of Network Does Plusnet Use?
Plusnet Broadband uses both ADSL and FTTC networking technology also commonly referred to as Fibre To The Cabinet. Fibre To The Cabinet essentially means fibre optic runs from the main exchange to the cabinet. Copper wire runs from the cabinet to your premises to enable fibre and fibre extra broadband. 
Is Plusnet Any Good?
We base our recommendations on the reports released by OfCom that tracks real broadband customer data. They track customer complaints as well as reliability of the broadband service and speed of service.
Plusnet Broadband ranked #1 for Overall Customer Satisfaction with 93%. We have included the latest results below for you to take a peek at as we wait for the next report.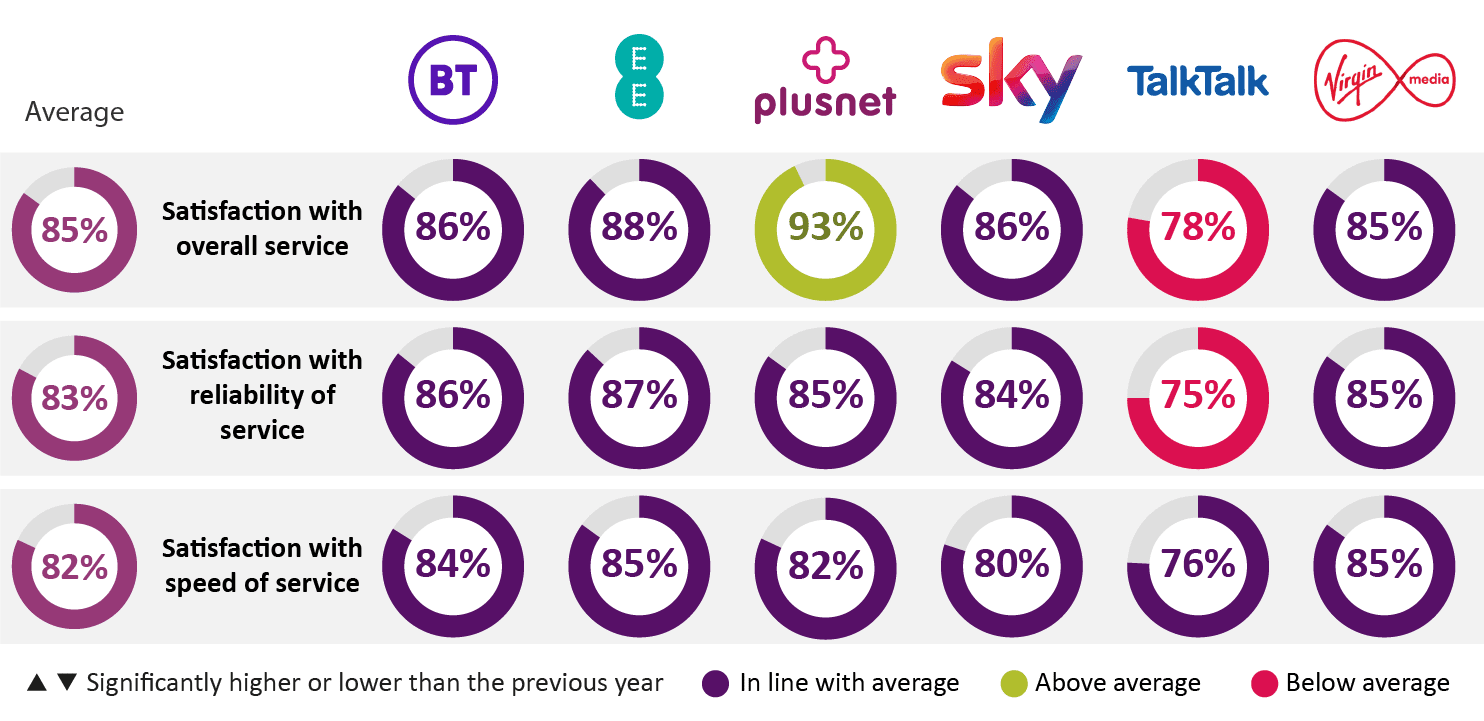 As you can see the results speak for themselves with Plusnet receiving high praise from their current customers. It is also worth noting that Plusnet doesn't have ultrafast fibre yet and despite this still came out on top.
Plusnet offers the cheapest broadband and phone package from the top 5 UK broadband providers with amazing UK customer service.

Superfast Broadband Deals Offered by the Other Four UK Providers
Deal Price
Advertised Price
18 Month Cost
BT Fibre 2
Sky Superfast Fibre
Virgin M50 Broadband
EE Fibre Plus