Community

Fibre

Review for January 2022 Broadband Deals
Community Fibre is offering the Best Broadband Deal in London with
920 Mbps download and upload speeds for only £25 Per Month!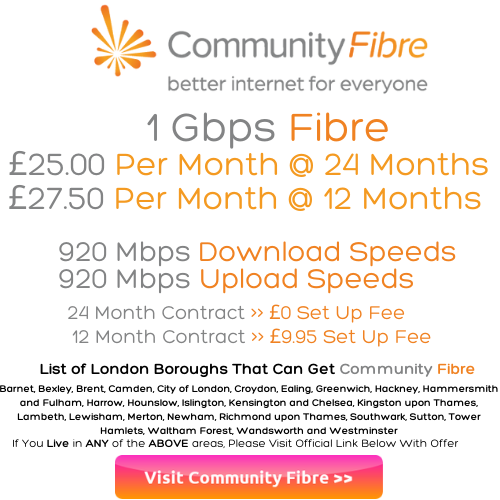 For broadband customers on a tighter budget, you can also get 50 Mbps to download and upload speeds for just £20 per month! Below are the two broadband deals offered for January 2022 from Community Fibre and you can add Community Fibre TV for only £10 per month.
Community Fibre Broadband Available in London UK

50 Mbps Fibre
£20.00 Per Month


150 Mbps Fibre
£17.99 Per Month


Perfect for Gaming & Many Devices on Wi-Fi.

Gigafast 1 Gbps
£25.00 Per Month

Perfect for Gaming & Many Devices on Wi-Fi.
Community Fibre Review for Availability in London and the UK
At this time, the Community Fibre network is available in the following London Boroughs listed in alphabetical order:
Barnet, Bexley, Brent, Camden, City of London, Croydon, Ealing, Greenwich, Hackney, Hammersmith and Fulham, Harrow, Hounslow, Islington, Kensington and Chelsea, Kingston upon Thames, Lambeth, Lewisham, Merton, Newham, Richmond upon Thames, Southwark, Sutton, Tower Hamlets, Waltham Forest, Wandsworth and Westminster.
If you live in any of these areas, feel free to visit the button below to see the official Community Fibre website.  
Currently, Community Fibre is expanding its network at a pace of 100,000 UK homes every six months. If you live in the London area, there is an excellent chance Community Fibre will be available to your home if it isn't already.
Community Fibre Customer Service
The customer service offered by Community Fibre is incredible when you look at their TrustPilot ratings. With over 11,300 reviews, Community Fibre has one of the best UK internet provider ratings with a massive 4.9/5.
If you ever need to get in touch with their fantastic support team, they can be reached at 0800 082 0770. After reading the latest ten reviews, you can be assured you will be in great hands when you switch to Community Fibre!
If You Switch We Will Donate £5 to a Local UK GoFundMe located on our about us page.
What Router Does Community Fibre Use?
Linksys Velop Router Offers six built-in Antennas and 3 Different Channels
The Linksys Velop router can easily handle download speeds up to 2.2 Gbps and seamlessly with other routers. If you have other routers in your household, they will get fantastic Wi-Fi speeds from the Linksys Router.
It is essential to know your other routers' capabilities to have a maximum speed output. If you need a router to cover long distances on your property, Community Fibre can provide extra routers for only £5 per month each.
The engineers for Community Fibre offer professional installation and will ensure you get the maximum speed coverage. Based on the TrustPilot reviews, broadband customers are thrilled with their install and broadband service.