Plusnet Business Broadband Deals With Phone
Are you a UK business owner looking for the cheapest price for business broadband and phone deals? We make it super easy for you to compare both business broadband and phone deals/plans. Please take a look at our comparison tool below to see how easy it is.
24 Month Plan
12 Month Plan
Including UK Calls
Plusnet Business Broadband

Static IP Included

Line Rental Included

£18 .00 /Month for 24 Months

£21 .50 /Month for 12 Months

£21 .00 /Month & UK Calling
Plusnet Business Fibre

Static IP Included

Line Rental Included

£22 .00 /Month for 24 Months

£27 .00 /Month for 12 Months

£25 .00 /Month & UK Calling
Is It Just £25 per month for BOTH Plusnet Business Fibre & Unlimited Anytime UK Calls?
Answer: Yes, this price is based on a 24 Month contract and includes Free Voicemail. You can call ANY UK landline free of charge! If you prefer to add your greeting, you can get Voicemail Extra added for just £3.00 per month. This business broadband deal includes Plusnet Business Fibre with download speeds up to 76 Mbps and upload speeds of 19 Mbps. You can compare our business broadband deals to see which one suits your needs and budget.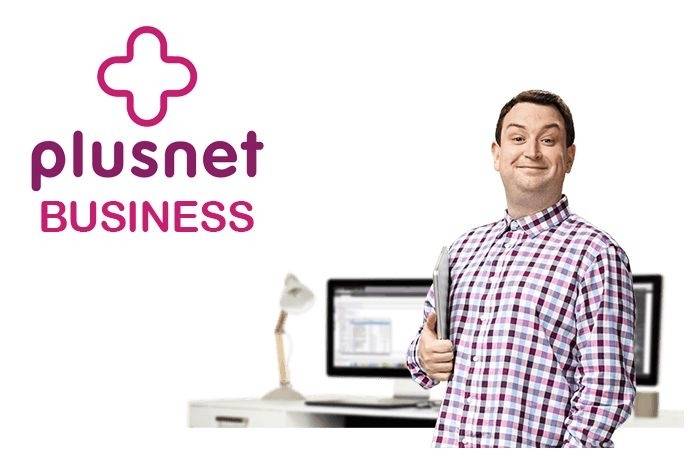 What Is This Difference Between Plusnet Business Unlimited Fibre and Plusnet Unlimited Business Broadband?
Answer: The most significant difference you will notice is Broadband Speed. Unlimited Business fibre is over 6x faster than unlimited broadband and more reliable. Technology is constantly evolving and requiring more and more bandwidth for different applications. For example, emailing involves a minimum of 5 Mbps download speeds, and emails with attachments use 15 Mbps.
If you process credit card transactions, a faster download speed will not only process transactions faster but also help your business's overall efficiency. It also makes more sense from a business perspective to have more broadband speed than not enough.
Suppose the broadband speed isn't as fast as what your business requires. It almost always means a phone call to the provider for an upgrade. We want to help you prevent the headaches of those phone calls so that you can focus on your business and make sales instead!
Does Plusnet Business Broadband Offer International Calling Deals/Plans?
Answer: Yes, Plusnet Business broadband offers two different International Calling Plans, where you can choose either 500 minutes or 1000 minutes. These minutes can be used towards either UK mobiles, US mobiles, or the Top 20 International destinations.
What Are the Top 20 International Destinations That I Can Call?
Here is the Alphabetical List of the Top 20 destinations that are included with the Plusnet Business International Calling Plan: Australia, Belgium, Canada, China, Czech Republic, Denmark, France, Germany, India, Ireland, Italy, Japan, Netherlands, Poland, Portugal, Singapore, Spain, Sweden, Switzerland, and the United States (Both landline & mobile). 
You can use the pricing toggle below to quickly compare the prices of adding either 500 minutes or 1000 minutes to your business broadband plan. Please note that the prices listed are based on a 24 Month Contract.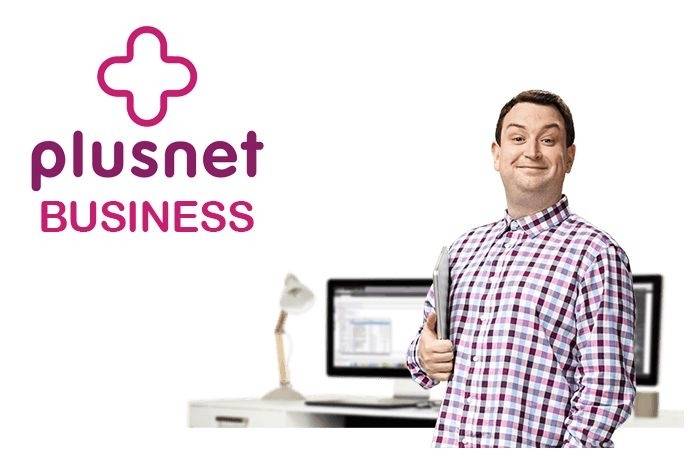 Does Plusnet Business Broadband Have Good Customer Service?
Plusnet Business broadband has incredible UK-based customer service that has won several awards from various institutions, including OfCom, the UK broadband and phone regulator. OfCom gave Plusnet Broadband the highest rankings amongst the Top Six broadband providers in the UK. Plusnet had a massive 5% lead over EE, the next leading competitor, and 6% over BT and Sky.
Customers were pleased with the Reliability of Service with just a 2% difference between EE and 1% difference from BT broadband. Plusnet has routinely finished in either #1 or #2 for the past three years, according to the OfCom reports. Here is a chart of the latest report released in August 2020.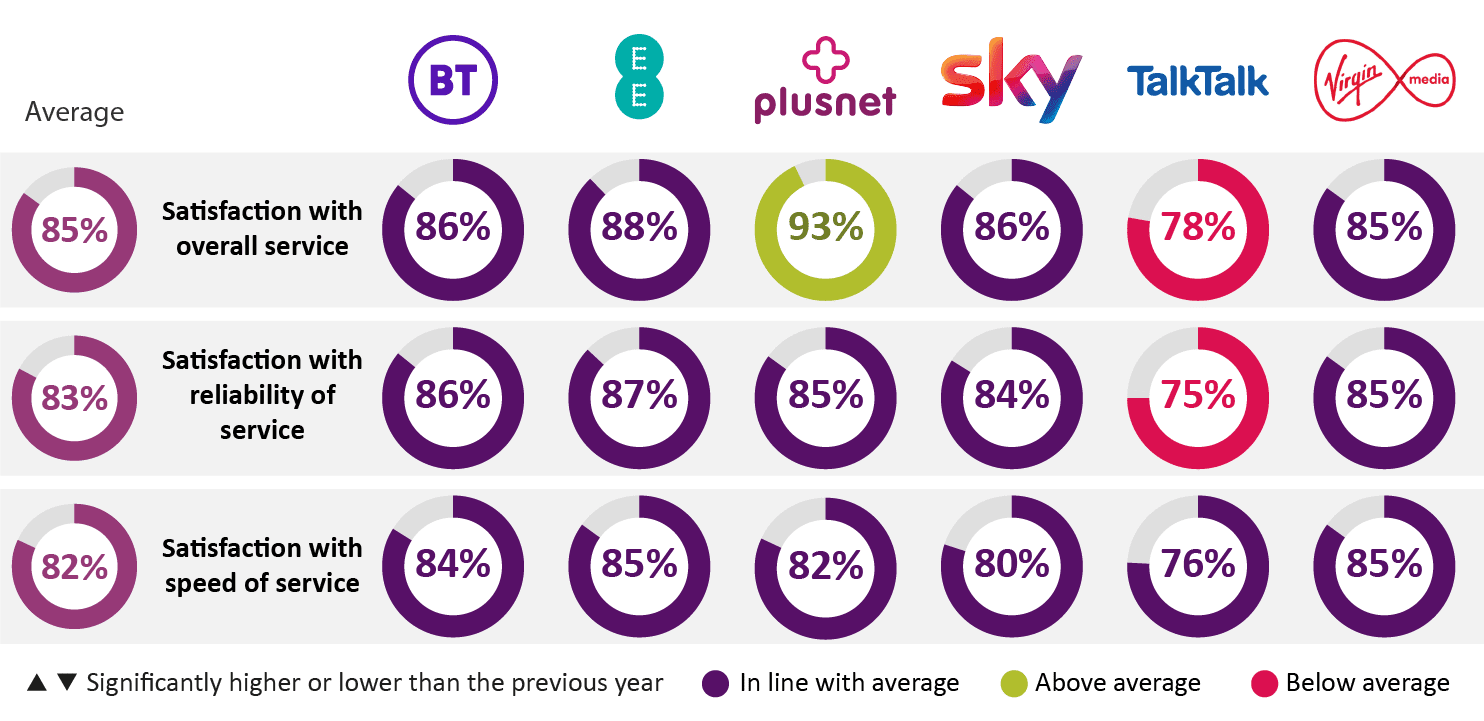 As you can see, Plusnet customers were overall delighted with their broadband service, with very few customers needing to call to complain. Having a good customer care team is essential when you need to resolve issues quickly, especially for your business. You can count on a dedicated support team to assist you at any time of the day and night.
Where Are The Plusnet Business Broadband Offices Located?
The offices where Plusnet Broadband is located are in Sheffield and Leeds, UK, but Plusnet Business broadband can help you at any time of the day or night with their incredible 24/7 customer support. If you have an issue at 3:29 am, they are ready to assist you and get you back to business.
It doesn't matter if you are a small business or a large organisation. Plusnet Business broadband can help you with your business broadband needs with over 20 years of experience in the industry. You have a team of experts ready to get you started.
Is Switching To Plusnet Business Broadband Easy?
Answer: Yes, in fact, Plusnet Business will do ALL of the switching over for you so that you don't have to worry or stress with their straightforward and seamless process. If you need to move your business within the 24 Month contract, Plusnet will give you one Free Premise Move! Feel free to look at the deals on offer from Plusnet Business and start saving money today!
Is This a Fixed Price 24 Month Contract?
Answer: Yes, this means your price will NOT go up at all during the entire 24 months. Giving you peace of mind knowing there won't be any price rises for the FULL 24 months.
Plusnet Business Broadband has recently dropped its price from a ridiculously cheap £22.00 per month down to a filthy cheap £21.00 per month. This is a solid budget business broadband option, and Plusnet has local UK expert service available 24/7.
Do I Get A Static IP Address?
This is a great question, and the answer is YES. Both BT and Plusnet business broadband offers a FREE STATIC IP ADDRESS! This is fantastic news for companies that use VOIP services with their broadband. Take a look at the prices below to see if a plan tickles your fancy.
24 Month Plan
12 Month Plan
Including UK Calls
Plusnet Business Broadband

Static IP Included

Line Rental Included

£18 .00 /Month for 24 Months

£21 .50 /Month for 12 Months

£21 .00 /Month & UK Calling
Plusnet Business Fibre

Static IP Included

Line Rental Included

£22 .00 /Month for 24 Months

£27 .00 /Month for 12 Months

£25 .00 /Month & UK Calling