Compare the Cheapest Plan or Deal From Each Provider in One Go!

          
Deal Price
Advertised Price
18 Month Cost
Plusnet Fibre Unlimited Extra

Customer Reward

£55 Reward Mastercard

Activation/Set Up Fee

£0.00

£15 .93 /Month

£18 .99 /Month

£286 .82 /18 Mo
Shell Fast Broadband

Customer Reward

Spring Discount!

Activation/Set Up Fee

Free!

£18 .99 /Month

£18 .99 /Month

£341 .82 /18 Mo
EE Standard

Customer Reward

5 GB Data Boost!

Activation/Set Up Fee

Free!

£23 .50 /Month

£23 .50 /Month

£423 .00 /18 Mo
Sky Essential Broadband

Customer Reward

Speed Guarantee or Money Back!

Activation/Set Up Fee

£9.95

£25 .55 /Month

£25 .00 /Month

£459 .95 /18 Mo
BT Broadband

Customer Reward

Get 36 Mbps Fibre for Same Price

Activation/Set Up Fee

£19.99

£28 .40 /Month

£27 .99 /Month

£681 .71 /18 Mo
What is the availability of cheap broadband?
Cheap ADSL broadband offers the slowest broadband speeds and a budget price for those on a fixed income. ADSL is available to 96% of households. However, broadband companies like BT offer 36 Mbps fibre for the same price to try and ween customers off the slower broadband speed.
Suppose you're wondering why you don't see Virgin Media in the list. That is because the slowest fibre they offer is 54 Mbps. Providers are listed by the lowest deal price, where we calculate the cost of the setup fees and take off the discounts to find the average monthly price. 
That is why in some cases, you see the price increase for the provider or decrease depending on the offer. One thing to consider if you are deadset on getting the ADSL broadband service is that EE  Standard Broadband offers EE Mobile customers an extra 5 GB of data to their mobile plan, and their monthly price drops to just £19 per month. This could be the best deal if you're planning to be a mobile customer as 5 GB is typically worth £10 per month on a pay monthly mobile deal.
If you plan to watch Ultra HD, you will need to get a Superfast broadband deal as Ultra HD requires 50 Mbps or faster. For example, Netflix has recommended at least 25 Mbps for watching its shows. YouTube Ultra HD requires 40 Mbps, and watching Live Sports like Manchester United vs Liverpool requires 44 Mbps. 
These deals or plans also work well in areas where superfast or ultrafast fibre is still unavailable. In case you live in a very rural area, it is essential to know that Sky offers Sky Essential broadband but is £25 per month.
Which Broadband Provider Offers Cheap Broadband Deals With A Reward?

Answer: Plusnet Broadband offers the cheapest ADSL price of just £18.99 Per Month and comes with a Plusnet Reward Mastercard value of £50.00. When you factor in the reward card value into the monthly price, it is reduced to just £16.21 Per Month.
Another UK broadband provider that offers a reward for customers is EE Broadband, where they will provide customers with 5 GB of data to their mobile plan. In the UK, 5 GB of mobile data is worth a minimum of £7 Per Month.
What Broadband Speeds Do Cheap Broadband Deals Come With?
The average download speed for ADSL broadband is 10-11 Mbps, with upload speeds between 1-2 Mbps depending on your broadband provider. The reason these broadband speeds are slower than superfast fibre is due to older technology.
ADSL uses copper wiring for your broadband connection, whereas Superfast Fibre has fibre optic from the exchange to the cabinet. Ultrafast fibre takes this one step further and has fibre optic from the cabinet's exchange and from the cabinet to the premises.
Which Broadband Providers Offer The Best Customer Service?
When you get a cheap broadband deal, that doesn't mean you have to compromise the price for brilliant customer service. Plusnet Broadband offers the BEST Customer service in the UK based on customer satisfaction. Plusnet had a MASSIVE 93% overall customer satisfaction score which was 5% higher than EE Broadband which came in 2nd place with 88%.
We have provided an easy to compare infographic below to show you the latest OfCom rankings with the top broadband providers in the UK.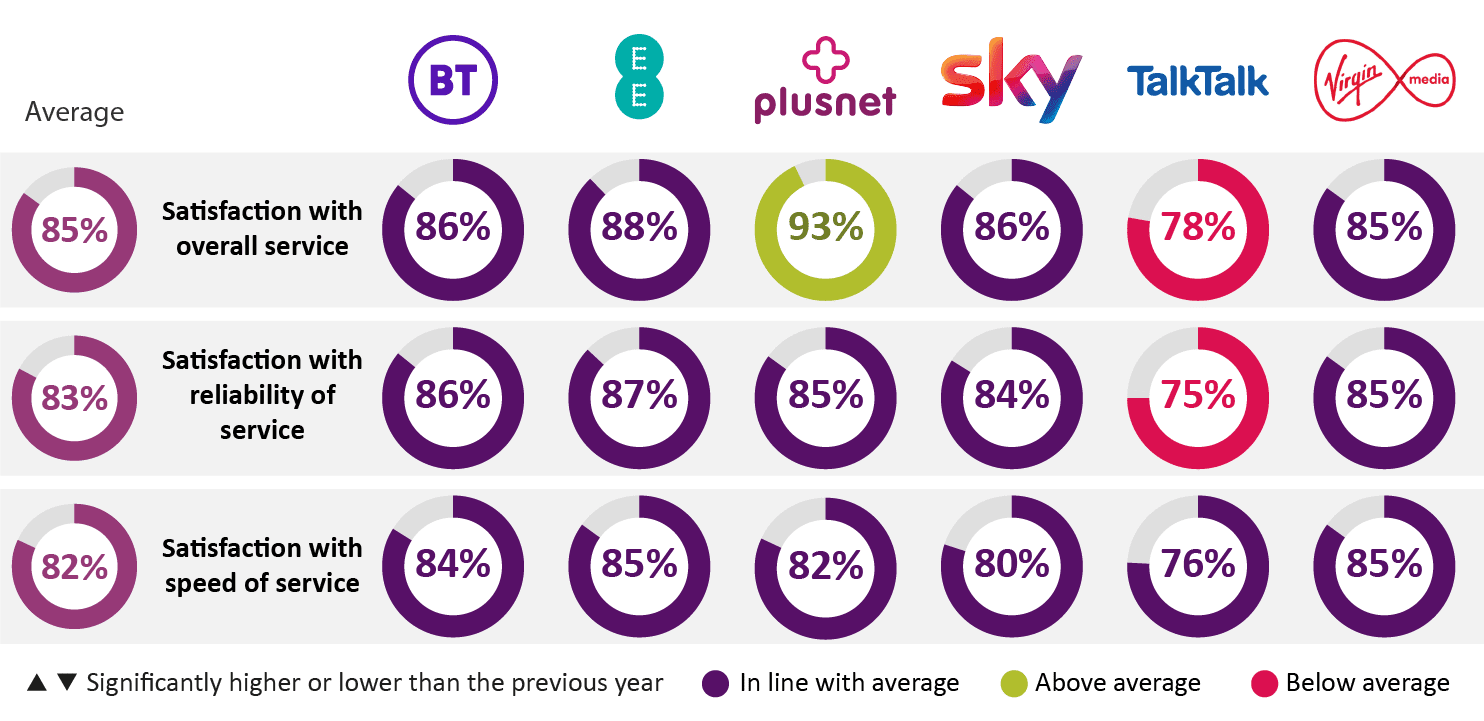 As you can see from the infographic, you will NOT be disappointed with the customer service, even with an excellent cheap broadband deal. Plusnet has won several awards for its broadband service, and they also offer affordable calling plans you can add on.
What Happens When Your Cheap Broadband Deal Contract Expires With Plusnet
A great feature Plusnet offers customers is its end-of-contract notification alert system. Before your contract expires, Plusnet will send you an alert so you can renew your broadband service without getting a nasty broadband bill in the mail. This also helps cut down unnecessary phone calls to complain about the surprise price rise.