Live in West Oxfordshire? Gigaclear is Available in Your Area!

Gigaclear is now offering full-fibre broadband services to over 4600 residents and businesses in the West Oxfordshire district area. With optic fibre being rolled out across West Oxfordshire internet customers can enjoy incredible download speeds of up to 1,000 Mbps (1.1 Gbps).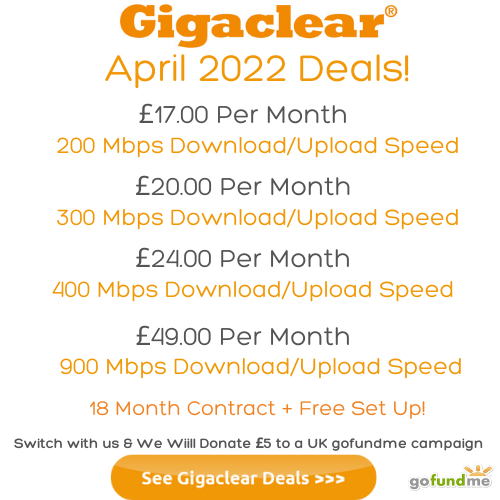 If you check your postcode and it doesn't show that you have broadband access currently, we strongly recommend emailing networkbuildcare@gigaclear.com or calling 01865 591137.
It is definitely worth seeing if Gigaclear plans to expand to your area as they can save you a bundle of money on your broadband service. We found postcode OX29 0AD as having availability to any of the addresses on the list. This is fantastic news for residents in the West Oxfordshire District looking for affordable full-fibre with ultrafast and gigafast fibre speeds.
The Ugly Truth About Mainstream UK Internet Providers
When it comes to Full Fibre you can count on Gigaclear to deliver the absolute best prices with prices starting from only £17 per month. New customers don't pay ANY set-up or connection fees and you get an incredible 200 Mbps download and upload speed for consistently fast download times.
Compare the Gigaclear monthly price of £17 with Virgin Media M200 which is £33.99 per month during an 18-month contract. That works out to paying a whopping £322.74 more during the contract and Gigaclear has a solid 4.1/5 TrustPilot Rating.
Gigaclear Full Fibre Rural UK Broadband

200 Mbps Fibre
£17.00 Per Month


300 Mbps Fibre
£20.00 Per Month


600 Mbps Fibre

£24.00 Per Month


830 Mbps fibre
£49.00 Per Month

Cheapest FTTP for Rural UK Areas!


Perfect for Gaming & Many Devices on Wi-Fi.