Cheap Business Broadband Deals for UK & London

Plusnet Business broadband offers cheap unlimited internet plans from £18 per month with 18 Mbps download speeds. You're able to add the unlimited UK calling for just £4.00 per month more for a total of £22.00 per month!

Can I Bundle Business Broadband and Phone?
Answer: Yes, you can bundle both Plusnet Business Phone and Broadband for just £24 per month.
Plusnet Business Broadband Deals

Plusnet Business Broadband

£18.00 Per Month ★ Broadband Only


£24.50 Per Month ★ Unlimited UK Calls


£22.00 Per Month ★ Fibre Only

£28.50 Per Month ★ Unlimited UK Calls
Does Plusnet Business Offer Cheap Superfast Broadband?
Plusnet Broadband offers the cheapest business fibre for just £22 per month and a small £4.99 set up fee. You can get download speeds of up to 76 Mbps, which is an excellent deal for those working from home or who have a small business. 
Plusnet is available to over 96% of the UK market and hires local UK talent for their fantastic customer support team. Plusnet was rated the #1 broadband provider in the UK for Overal Customer Satisfaction and has received numerous customer service awards. 
The latest results from the latest OfCom rankings includeOfCom rankings include other factors such as reliability and speed of service.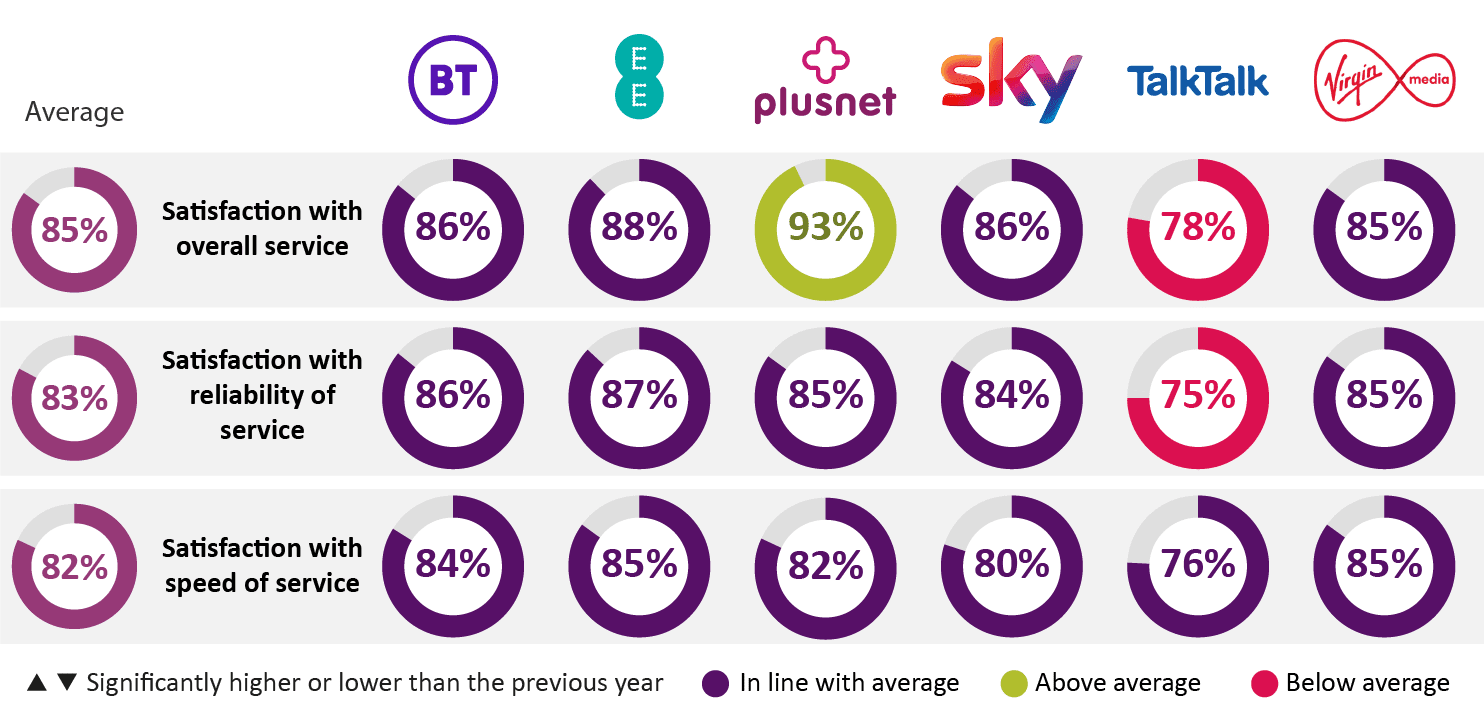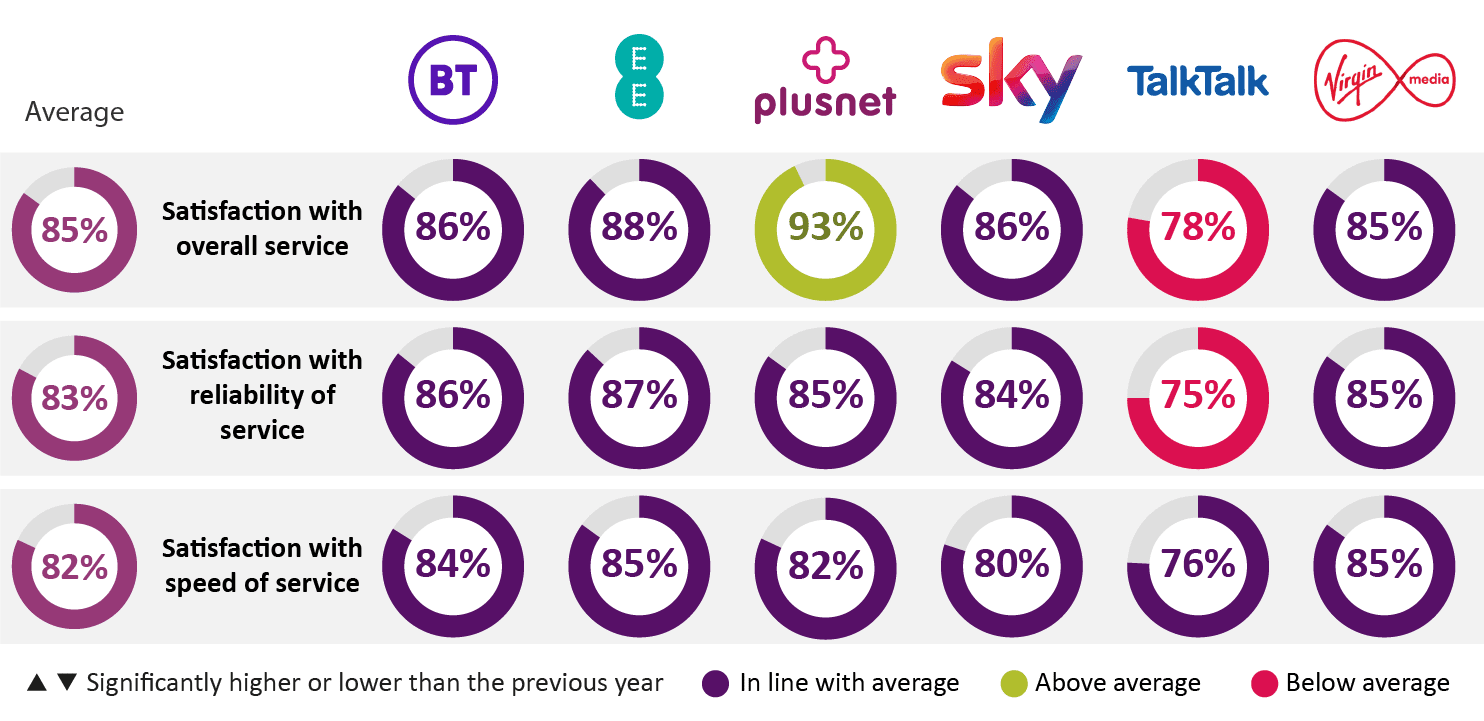 Plusnet provides reliable, fast broadband and has been the #1 UK broadband provider for two out of three years. Plusnet is the best option if you're after the cheapest broadband for your business.

---
Cheap Business Broadband For Full Fibre Speeds
The cheapest option for Full Fibre broadband for your business is £42.95 per month for BT Full Fibre 150. In our view, this deal is well worth the money as BT includes 4G Assure and the "Always Connected Guarantee".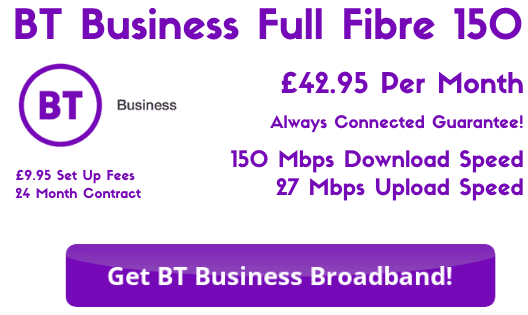 4G Assure is a fantastic service that automatically connects you to the 4G Network if your broadband experiences a fault. BT has a monitoring service that constantly monitors faults 24/7 and can switch your broadband connection almost instantly.
BT Business offers Full Fibre 300 with 300 Mbps download speeds for business owners who want even faster broadband speeds. You can get upload speeds of 48 Mbps, which is ideal for business owners who upload many files and data.
Being connected to the internet 24/7 is essential to their business operations for some UK business owners. In this case, they will probably find BT Business broadband the better option even though it's slightly more expensive than Plusnet.
What Happens If BT Doesn't Connect Me Within 30 minutes?
BT understands how vital it is for businesses to be constantly connected to the internet with their "Always Connected Guarantee". If your broadband connection is offline for more than 30 minutes, they will pay you £25.
Is Business Broadband Unlimited?
Yes, both Plusnet Business and BT Business broadband offer Unlimited Broadband with all their business broadband deals. Your business will be able to download as much data as it needs without the worry of being slowed down. Below are all of the available broadband plans for easy instant comparison.
£22.95 Per Month (On Sale)

£26.95 Per Month (On Sale)


Includes Unlimited UK Phone Calls

Great for Small Businesses!

BT Business Full Fibre Deals

BT Business Full Fibre 150

BT Business Full Fibre 300