EE Broadband Review April-May 2021
EE Broadband offers fantastic prices for broadband, and you can see all of the broadband speeds EE Broadband offers below.  

If you get either EE Standard Broadband,  EE Fibre Broadband, or EE Fibre Plus Broadband, you will get an extra 5 GB added to your mobile data plan. If you get Fibre Max 100, Fibre Max 300, or Full Fibre Max 900, you will get 20 GB added to your EE Mobile account. 
EE Mobile customers save an additional 10% off the advertised price so that Fibre Broadband would be just £23 per month instead of £26.00. This is in addition to getting 5 GB of free extra data. NHS employees may be eligible for the 20% EE NHS Discount and is also available for employees of emergency services (Police, Fire, and Ambulance).
Fibre Max 300 is just £42.00 per month for EE Mobile customers (£47 Per Month Regular Price) and is cheaper than BT Fibre 250 (£49.99 Per Month). It is also four and a half times faster than Plusnet Fibre Unlimited Extra.

EE Broadband Review of Customer Ratings Data
So now that you know, EE Home Broadband offers awesome deals; let's see how they perform as one of the top five UK broadband providers.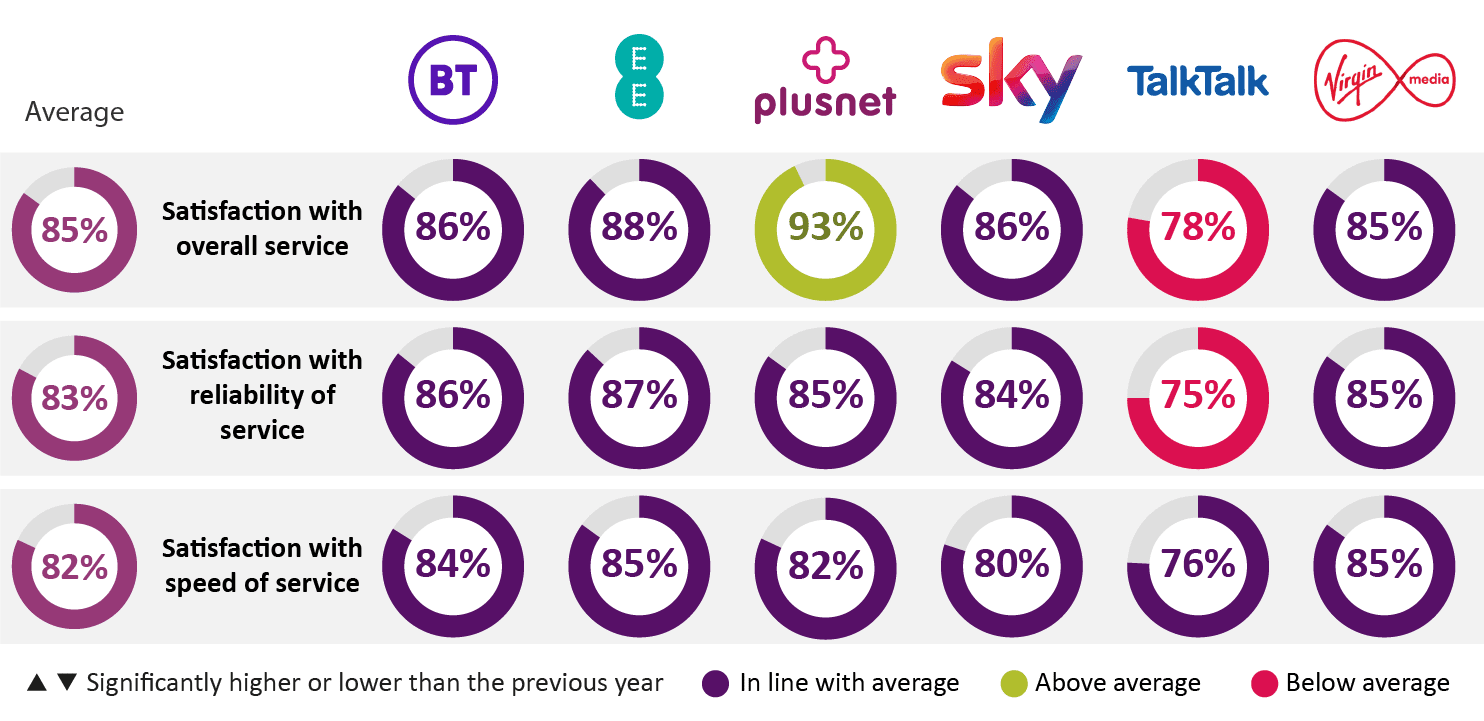 EE Home Broadband was the #1 Most Reliable UK Broadband provider as rated by broadband customers. EE was also ranked #1 for speed of service, which is very important when it comes to full fibre speeds. 
As the data suggest, EE is definitely one of the top UK broadband providers, and customers are delighted with EE's UK based customer service.

Our Review of EE Standard Broadband
EE Standard Broadband is ADSL broadband which can reach download speeds of up to a max of 16 Mbps. It is very affordable for £21.50 per month or just £19.00 for EE Mobile customers. Customers interested in ADSL may want to know that ADSL will not work with Ultra HD if you plan to watch it on your television.
We recommend getting a broadband speed of at least 50 Mbps as some live sports channels require at least 44 Mbps for Ultra HD (UHD). This would mean getting at least EE Fibre Plus for £27 per month for EE Mobile customers; otherwise, £30.

Suppose you are looking for the fastest downloading speeds, then we strongly recommend looking at Fibre Max 100, Fibre Max 300, or Full Fibre Max 900. Some areas are now being connected to the fibre optic network.
With EE Broadband being the most reliable provider, it is extremely rare to have a red light modem issue. You can get EE Broadband without a landline that is great for customers who do not want a landline.
Our Review of EE Fibre Max 300
EE Fibre Max 300 offers an incredible 226 Mbps guaranteed minimum download speed and is the highest amongst Top UK broadband providers. A 300 Mbps download speed is absolutely fantastic for gaming and will help keep your latency low. 
If you download digital games, online Fibre Max 300 will have it downloaded within minutes for you instead of hours with ADSL. You can find Fibre Max 300 available in various UK cities, including Manchester.
We tested postcode M204PG, and you can see Fibre Max 300 is fully available in the St. Paul St. area. If you want to see what is available in your area, here is a button for you to crush with your mouse.
If you forgot what the broadband deals are on offer, we have posted them below for your convenience. We hope we helped you make an easy broadband switch and absolutely love your new provider!

How Much Broadband Speed Do I Need?
Suppose you're like many of us, who have no idea what broadband speed we need. We found this awesome bandwidth calculator online (Opens in a new window for you). Within seconds or minutes, you can find out how fast your broadband speeds should be based on your current broadband needs. 
As you can imagine, with more people in your household, the more bandwidth you may require depending on usage levels. Once you have done the math, just come back here to see the plans below. Just click on the image, and we will whisk you away to the EE deal page for you. We appreciate your support!
No Call Plan
Unlimited UK Calls
International Calls
EE Standard

Activation/Set Up Fee

Free!

£23 .50 /Month

£29 .50 /Month

£33 .50 /Month
EE Fibre

Activation/Set Up Fee

Free!

£26 .00 /Month

£34 .00 /Month

£38 .00 /Month
EE Fibre Plus

Activation/Set Up Fee

Free!

£30 .00 /Month

£38 .00 /Month

£42 .00 /Month
EE Fibre Max 100

Activation/Set Up Fee

£25.00

£39 .00 /Month

£47 .00 /Month

£51 .00 /Month
EE Fibre Max 300

Activation/Set Up Fee

£25.00

£47 .00 /Month

£55 .00 /Month

£59 .00 /Month
EE Fibre Max 900

Activation/Set Up Fee

£25.00

£55 .00 /Month

£55 .00 N/A

£60 .00 N/A