Full Fibre Broadband Deals Shell Energy Broadband
Shell Energy Ultrafast Broadband offers four different full-fibre plans in addition to two other Ultrafast broadband plans. If you switch with us, we will Donate £5 to a GoFundMe campaign listed on our about us page. 

Shell Energy Ultrafast Fibre Plan
UK broadband customers can enjoy full fibre broadband starting at only £30.99 per month with 100 Mbps download speeds. Shell Energy offers ultrafast broadband download speeds of over 140 Mbps and 25 Mbps upload speeds. 
Shell Energy Ultrafast Plus Fibre Plan
Shell Energy Ultrafast Plus is just £44.99 per month and offers incredible ultrafast download speeds of 290 Mbps and upload speeds of 25 Mbps. If you were to download Fortnite to your PC, it would take 4 hours with basic ADSL broadband or just 8 minutes with Ultrafast Fibre Plus.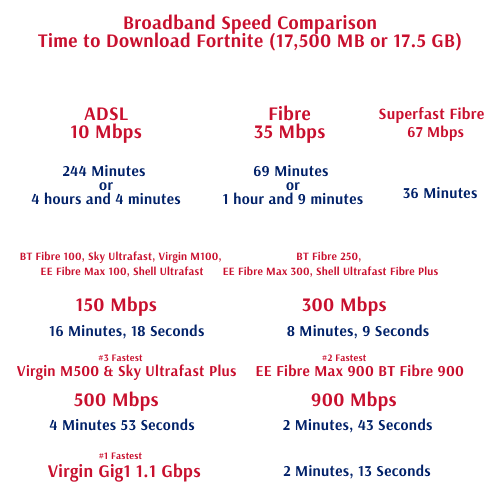 What's The Best Part of Switching to Shell Energy Broadband?
The biggest reason Shell Energy broadband customers love having Shell Energy provide their broadband is NO PRICE INCREASES. We had to put it in bold because we couldn't believe it either. It is true! When your contract runs out in 18 months, your price stays the SAME.
Today, if you were to get your Ultrafast fibre deal of £29.99 per month, your price in 19 months is still only £29.99 per month. If you're looking for Shell superfast broadband, our main Shell Energy broadband comparison page compares both fibre and Shell Energy superfast fibre deals.
Does Shell Energy Ultrafast Broadband Charge Set Up Fees?
Answer: No, Shell Energy broadband offers Free Activation on all of their broadband deals, including Superfast fibre. Another great reason to switch to Shell Broadband and enjoy a £75 bill credit.
Shell Energy broadband uses the same network as BT and can provide reliable broadband services all over the UK. Shell Energy is proud to offer Full Fibre broadband deals to customers who are also Shell Energy customers. You can get exclusive access to Shell Energy petrol discounts and offers and save even more money on energy costs.
Should I Get Shell Energy Broadband?
Shell Energy is a familiar brand in the energy industry, and they know excellent customer service is crucial to success. Shell Energy support team is UK based, and customers love not having price increases. 
Many Shell Energy broadband customers are thrilled they don't have to call in to complain about a price rise. If you prefer stable fibre broadband prices without continuously switching, Shell Energy would be a perfect fit! Ofcom is the UK Regulator for broadband in the UK, and Shell Energy follows their code of practice.